Rockler Carbide Turning Tool Holder
Keeps your turning tools organized and easily accessible at all times—chain several together to fit all of your tools.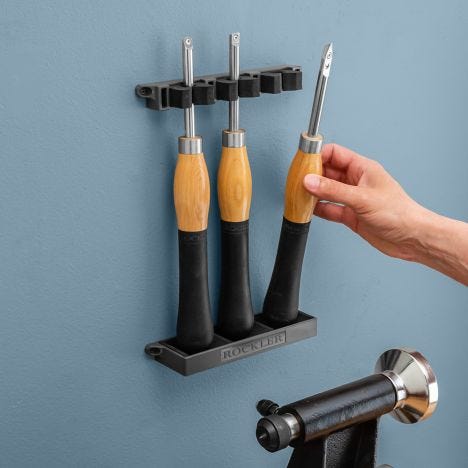 Good organization at the lathe makes for good workflow, allowing you to transition seamlessly between roughing, smoothing, parting and hollowing. Our Carbide Turning Tool Holder puts your tools in neat, sequential order, ensuring easy access at all times. Mount them to the wall behind your lathe so they're always within arm's reach, or to a panel that attaches to the lathe stand for easy access if your lathe is on casters. The rack is made of sturdy ABS plastic, and features foam clips that grip the shanks with enough resistance for a secure hold, but won't fight you when it's time to remove a tool. The bottom portion is molded into a wave pattern that cradles the butt ends of your tools. To replace the tools in the rack, just set the butt of the handle into the base and tip the shank through the foam fingers.
Features:
Mount to the wall, or to a plywood panel to store and protect up to three Rockler Ergonomic Carbide Turning Tools
Also accepts other brands of carbide-cutter turning tools, or traditional turning tools, with shafts no greater than 1/2'' wide
Vertical distance between brackets can be varied to fit the tool length
Non-marring foam clips in top bracket hold shafts, while wave-shaped foam in base cradles tool ends
Screw mounts are jogged so multiple holders can be ''daisy chained'' to accommodate as many tools as needed
Mounting holes are spaced 8'' on center
Made from durable ABS plastic
Includes wall anchors and mounting screws
Rockler Carbide Turning Tool Holder
(1) Upper Bracket
(1) Base Bracket
(4) #6 x 2-1/2'' mounting screws
(4) Wall anchors
More Information
Brand
Rockler
Weight
0.500000
Tech Spec

Material: ABS plastic with EVA foam inserts
Width: Just over 8'' (mounting holes are spaced 8'' on center)
Depth: Bottom bracket is 2-1/4'' deep