Rockler Silicone Project Tray
The ultimate catch-all tray for small glue-ups, assembly, repairs, and just about anything that involves keeping track of small parts!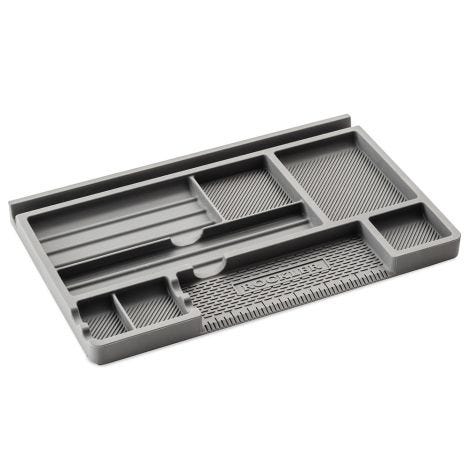 Whether your project is a repair involving adhesives, a small assembly, an epoxy mold or any of dozens of other small projects, everything goes more smoothly if you have what you need, neatly organized, in one spot. That's where our Silicone Project Tray serves as the ultimate catch-all. Keep your nuts, bolts, brads, dowels, biscuits, screws and anything else you need close at hand. Store your 5-minute epoxy, CA glue and wood glue right there in one place for routine household repairs and assembly of small items. There is even a spot specifically sized to house our Silicone Glue Keeper (#52296, sold separately). Since the tray is made from our glue-shedding silicone material, it won't get all gunked up over time, and it will never crack upon impact. We've also built lots of other great features into it. One edge is grooved to fit into the matching edge on our Silicone Project Mat XL (#59282, sold separately), preventing glue drips from falling into the gap, several cutouts cradle our Silicone Glue Brushes and the leading edge has a measuring scale for checking the sizes of screws and other small parts.
Rockler® Silicone Project Tray Details:
From small-scale glue-ups to project assembly to just about any other task that involves keeping track of parts, this easy-to-clean silicone tray has you covered
Various compartments hold glue brushes, pencils, driver bits and more—one is even sized to fit the Rockler Silicone Glue Keeper (#52296, sold separately)
Easy to clean—wet glue wipes off, and dried glue peels away!
Silicone is flexible, but not floppy, and is non-marring
Long slot along back edge supports a cellphone
Dedicated spots for drill/driver bits, pencils, markers or longer parts
Curved notches cradle glue brushes
Ideal for sorting screws and hardware during assembly
Radiused bottom corners of compartments for easy scooping
Integral ruler on front for quickly checking lengths of fasteners and other parts
Groove pattern on underside of tray front interlocks with matching pattern on side of Silicone Project Mat XL (#59282, sold separately)
Great for holding kit parts for pen turning, small project turning, etc.
Measures 11-5/8'' x 7-1/4'' x 13/16'' tall
Note: Not for food use.
(1) Rockler Silicone Project Tray
More Information
Brand
Rockler
Weight
1.650000
Tech Spec

Material: Silicone
Overall Tray Dimensions: 11-5/8'' x 7-1/4'' x 13/16'' tall
Limitations: Not for food use