Walnut Hollow® Creative Versa-Tool Wood Burning Kit
An old favorite of ours with a handy new twist — just spin the dial for variable temperature control!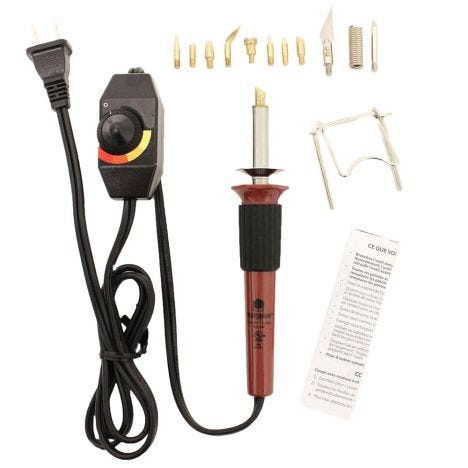 This all-in-one woodburning kit combines a woodburning tool, folding stand, storage case w/dividers, 11 interchangeable points and lead-free solder into a handy locking storage case that hangs on the wall. Woodburning tool heats to 950° for quick, sharp burns, and features a comfortable rubber grip with a temperature dial on the 5' cord.
Features:
Uses: woodburning, leather crafting, soldering, stamping, paper crafting, hot knife cutting, pattern transferring, embossing, stencil cutting, personalizing
Universal Point: Great for all fundamental woodburning techniques
Flow Point: Half-spherical tip burns curves, dots, dot-shading and cursive writing
Shading Point: Broad, spade-like tip creates beautiful side shading and large area shading with a very light touch
Calligraphy Point: Write basic calligraphy style lettering, shaping and burning techniques
Tapered Point: Cuts intricate designs with ease in a variety of materials. Great for cutting stencils
Soldering Point: Use with lead-free solder (included) to join metal
Hot Knife Point: Hot razor cuts and shapes a variety of materials
Mini Flow Point: Transfers photocopies of black and white laser and color laser images onto surfaces
Mini Universal Point: Best for very fine and controlled lines
Cone Point: Use to burn fine lines, dots, and curves
Hot Stamp Point: Creates interesting patterns and borders on multiple surfaces
Variable temperature control with a 950° max temp
(1) Woodburning tool with variable temperature dial
(1) Storage case with dividers
(1) Universal point
(1) Flow point
(1) Shading point
(1) Calligraphy point
(1) Tapered point
(1) Soldering point
(1) Hot Knife point
(1) Mini Flow Point
(1) Mini Universal Point
(1) Cone Point
(1)Stamping point
(1) Storage Case
More Information
Brand
Walnut Hollow Farm
Manufacturer Part Number
38283
Weight
1.050000
Tech Spec

Cord Length: 5' L
Certification: UL listed
Wattage: 25 Watt/120V