Rockler Clamp-It Assembly Square with Corner Clamping Jig
Holds panels at a right angle, freeing up your hands to drive fasteners—includes a Clamp-It so you can start building right away!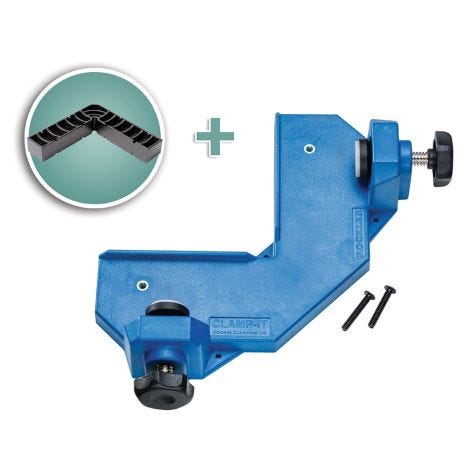 Struggling to line up cabinet parts while driving fasteners can be frustrating, and if you're using a nail gun, downright dangerous. The Rockler Clamp-It® Corner Clamping Jig eliminates that frustration by providing another set of ''hands'' to hold your parts together. It's used with the enormously popular Clamp-It® (included in this package) to hold panels at a precise right angle for fastening. Used in sets of four, the jigs are supportive enough to hold an entire case assembly as it is being assembled. The clamps have soft pads to prevent workpiece marring. Mounting holes in the jig allow for attachment to your work surface.

Features:
Extra-wide base, high walls and strong Acme threaded clamp screw hold panels securely
Thick cushioned pads to prevent marring
Durable glass-filled polycarbonate construction
Mounting holes allow for attachment to work surface for creating assembly jigs
Jig holds panels exactly 3/4'' off the work surface so you can use scrap boards to support other corners if using only one jig at a time
(1) Rockler Clamp-It Corner Clamping Jig
(2) 1'' Screws for Attaching Clamp-It
(1) Clamp-It Assembly Square
More Information
Brand
Rockler
Tech Spec

Material: Glass-filled polycarbonate
Max Panel Thickness: 1''
Dimensions of Clamp-It Only: 8'' X 8'' X 1 - 1/2''