I'm planning to buy a router soon, and I can't settle on whether to buy a mid-size (around 2 or 2.25 hp) plunge router or a compact router with a plunge base. They are smaller but getting great all-around reviews. I want a general purpose machine that's comfortable to handle but still powerful. Which do you recommend? - Del Jessen
Tim Inman: To me, you're talking two different machines with two different job assignments. I'd buy both of them. If budget or life partner issues won't accommodate two, then I would definitely start out with the bigger router, like the Triton plunge router, unless you plan on doing just little jobs. But, the big one can do little jobs where the little one can't do big jobs. Really, get 'em both.
Chris Marshall: When compact (1 or 1-1/4 hp) routers first came out years ago, I was really excited: more power than a laminate trimmer but in a similar tidy size? Count me in! And when plunge bases for these handy little machines hit the market, my appreciation for compacts just continued to grow. I've tried them all — Makita, DeWALT, Porter-Cable and Bosch — and I've found them to be powerful enough for most routing applications that can be done with a 1/4-in. shank bit: edge profiling, mortising, dado and groove cutting and light template or other joinery work. They are as well made as their larger cousins, while being easy-to-handle, particularly when your workpiece is small or when you have to steer the router along a narrow edge. A big router's heft can sometimes test your confidence, but with a compact router, I always feel like I'm in complete control.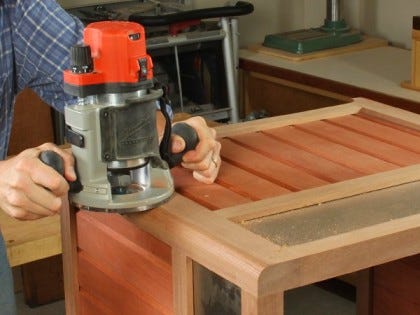 All this said, no woodworker should be without a mid-size wood router. That will be your workhorse machine. The larger motor can tackle virtually any routing operation, with the exception of panel-raising with huge bits — that's a task for a 3hp full-size router. Plus, a mid-range model will accept both 1/4- and 1/2-in. shank sizes. Yes, it's proportionally bigger than a compact router, and the added weight doesn't always work in your favor when you're steering it by hand. But, with a fixed and plunge base, a 2 to 2-1/4hp machine could easily be the only router you can't be without. It will work well in hand or bolted under your router table. A compact router, while more nimble and fun to use, comes in second place.
I second Tim's motion here: buy the mid-size to get you going, then save up and buy the compact too. You'll love having both options.