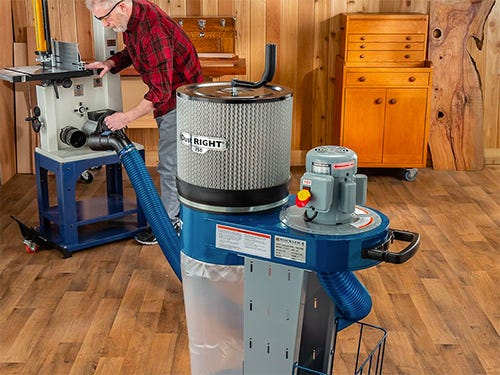 To choose the right dust collector for your shop, you'll need to consider the air volume requirements of the tools in your shop and also the amount of static pressure your dust collector will have to overcome.
Unfortunately, a thorough explanation of dust collection design - including formulas for calculating air volume, velocity and static pressure losses - is beyond the scope of this article.
There are, however, a few dust collection "rules of thumb" that are based on the size of your shop and the type of tools in it. Below well offer our picks for dust collection systems ranging from a small portable dust collection solution to a central system for a well equipped two car garage sized shop.
How Dust Collectors are Rated
Dust collectors are designed and rated to produce a sufficient air moving force to capture and move woodworking debris under certain conditions. Nearly all manufacturers publish ratings for individual dust collectors including:
Air velocity in feet per minute (fpm)
Air volume in cubic feet per minute (cfm)
Maximum static pressure (sp)
A large, powerful dust collector will, of course, move more air with more friction-overcoming force than a small, portable unit, and therefore can be used to service machinery that produces greater volumes of debris and have greater cfm requirements. Also, because of their greater capacity for overcoming static pressure losses, more powerful dust collectors can be situated farther away from individual machines, making them more advantageous for central dust collection systems.
Affordable, Portable Systems
A portable dust collector is a good option if your priorities are affordability and simplicity. A portable dust collector is moved from machine to machine, keeping it in close proximity of the tool it's servicing and limiting the static pressure losses caused by long runs of ductwork. There's a minimum amount of set-up involved - the dust collector connects to the dust collection port of the tool it's servicing with a short length of flexible hose and a keyed hose clamp.
The Dust Right Wall Mount Dust Collector is an excellent choice for a small woodworking operation where an affordable solution is the goal. With a 650 CFM suction capacity, this compact dust collector handles serious shop messes without cluttering up your workspace. It mounts in seconds with simple (included) brackets. For even more versatility, order a few extra brackets and install them in strategic locations around your shop. Then use the comfortable foam grip handle to move the unit to wherever you happen to need it. With a host of attachments & fittings available, the Dust Right system can give you complete dust collection in a small package with a price to match.
Stepping Up for Better Performance
If your shop is equipped with a number of large stationary power tools, consider stepping up to a dust collection unit rated in the 1100 - 1200 cfm range. Used as a portable dust collection system (moved from tool to tool), dust collectors in this class will produce ample air velocity and volume to handle chip removal for even the largest home shop tools.
Central Dust Collection Systems
In a central dust collection system, the dust collector stays in one place in the shop and is connected to the woodworking tools it services with a system of ductwork. A central system has a couple of advantages over a portable system. The central dust collection unit can be placed in an out-of-the-way location where it doesn't take up the most valuable space in your shop. Also, a central system is permanently connected to your tools, meaning that you can move from tool to tool freely, without having to stop work to transfer the dust collector's connection.
Basement and One Car Garage Sized Shops
Runs of ductwork, elbows and wyes required in a central system mean greater static pressure losses. A dust collector used for a central system has to be powerful enough to overcome static pressure losses - with enough air volume and velocity left over to move material.
Basement and One Car Garage Sized Shops
Dust collectors in the 1100 - 1200 cfm range offer an economical central dust collection solution for small shops. Dust collectors in this class are typically rated at a maximum static pressure of 8+ inches of water, making them powerful enough for a hobbyist's basement or one car garage sized shop. Good dust collection system design will go along way in making dust collectors in this class perform well in a central dust collection system.
Two Car Garage Sized Shops
If your shop occupies a space approximately the size of a two car garage, or you own tools with very high cfm requirements, then a moving up to a powerful, 3 HP dust collector is probably your best choice. Dust collectors in this class typically pull upwards of 2200 CFM and are rated at 10+ inches of static pressure. With good system design, that's enough force to pull debris through the longer lengths of ductwork necessary in a large home shop.
Small Professional Shops
If your shop covers more space than a good sized two car garage, or you frequently have two or more people using machinery at the same time, you may need more than one of the dust collectors mentioned above to do an adequate job. Or you may just need a larger dust collector. Moving up to a 5 HP dust collector will typically get you a whopping 4500+ CFM to keep bulky shavings moving along with plenty of static pressure to overcome long runs of amply-sized ductwork. Along with the increase in power, these production-oriented units typically incorporate larger collection bags to minimize time spent making room for more dust.