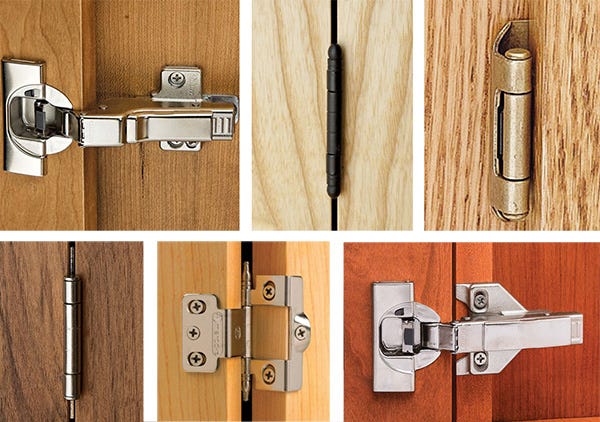 When it comes to cabinets, a lot hinges on the hinges. Their style and functionality have a huge effect on the overall appearance and performance of your cabinets and doors, maybe as much as the choice of wood or finish.
With such a wide range of cabinet hinge options, how do you choose? This guide walks you through all the options, and helps you choose the right cabinet hinge for your project. The best place to start is to figure out what type of cabinets and doors you have because that's typically how hinges are broadly categorized.
---
How to Choose the Right Replacement Hinges
Choosing cabinet hinges goes beyond picking a nice hardware material or color. You also need to consider their functionality and how these cabinet hinges fit into your piece of furniture. Learn important tips for selecting the right hinges for your next project.
Tip #1
If you're building from scratch, you have the flexibility to decide which cabinet hinges you want. But be sure to select your hinges before you get started. Selecting the cabinet hardware should be a critical element in the initial design stage. It's much easier to make a minor change in your design to match the required hardware than it is to rework a project in progress because the hardware you thought would be available can't be found.
Tip #2
Replacing existing cabinet hinges starts with trying to identify the manufacturer. Their name is often stamped on the hinge itself. If it is not, go through the buying guide as if you were buying a new hinge. This should direct you to the best replacement cabinet hinge option. Don't forget that you can also upgrade replacement cabinet hinges with one that has the exact same functionality, but with some new features like soft closing mechanisms.
Tip #2
How big are your cabinet doors? You do not want to install too many hinges on a door, but you need enough to support the door over time. Two cabinet hinges are the common configuration, but for larger cabinet doors, three or more hinges may be needed. Refer to our door size and hinge count graphic to determine if you need more than two cabinet hinges per door.
---
VIDEO: Cabinet Hinges 101
This video will give you an overview of the different types of cabinet hinges and the benefits of each type of hinge.
Cabinet Construction
To choose the right hinges for your furniture, you first need to know about the different types of cabinets. There are two basic types of cabinet construction: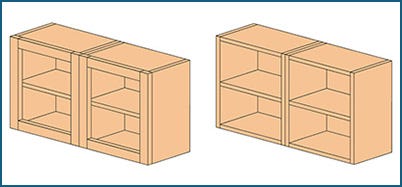 1 - Face Frame cabinets - Face-frame cabinets incorporate a frame (often made from 1-1/2" to 2" wide solid wood) that is attached to the front edges, or face, of the case. Hinges (also known as semi-concealed hinges) mount to this face frame. This is the most common style in American cabinets. Shop for Semi Concealed Cabinet Hinges
2 - Frameless cabinets - Frameless cabinets are essentially box with an open front. The exposed front edges of the plywood, MDF or particleboard panels are covered with edge banding. In this style of cabinets, hinges are mounted to the cabinet interior. Frameless cabinets also are sometimes called Euro or Euro-style cabinets. >> Shop for Frameless Cabinet Hinges
Cabinet Door Overlay Options
It might be necessary to measure the overlay of your cabinet door that's already mounted to your furniture to determine the right type of hinges to use. The overlay is the distance the cabinet door overlaps the opening on the side where the hinges are placed. Below are different types of cabinet door overlay options.

Overlay Door - Overlay doors overlap the cabinet sides or face frame and extend past the cabinet opening by a specified dimension. The overlay dimension is listed for each hinge, and refers to the amount that the door overlays the cabinet opening. For replacement hinges, you'll need to measure this with a tape measure (see video below). Full overlay doors cover all or nearly all the front edge of the cabinet side on a frameless cabinet. Half overlay doors cover a little less than half (typically 5/16") of the cabinet side, so that two doors hinging on opposite sides of a 3/4'' partition will have 1/8'' of space between them. Not to be confused with 1/2'' overlay, which refers to Semi-Concealed hinges that cover up the cabinet or face frame by 1/2''.
Full Inset Door - Full-inset doors, often called simply ''inset doors,'' fit entirely within the cabinet opening and sit flush with the face of the cabinet sides or face frames when in the closed position.
3/8'' Inset - 3/8" inset doors, often called ''lipped'' doors, have a rabbet (typically 3/8" x 3/8") around the edge and sit halfway inside the cabinet. These doors are typically installed in face frame cabinets.
VIDEO: Learn how to determine cabinet door overlay.
Door Swing Options
How far or to what angle a hinge will allow a door to open is called degree of opening. Some cabinet hinges will let the door open just beyond 90°, but others offering a much greater degree of opening are available. For example, a 270° hinge will allow the door to swing back against the cabinet side. (It bears noting, though, that this type of hinge will work only on a frameless cabinet with full overlay doors).
Hinge Closing Options
Soft-Close Hinge: Allows your cabinet door to close smoothly and silently no matter how hard the door is closed. With this feature integrated into the hinge cup, there is no additional hardware to install on the hinge or mounting plate.
Shop for Soft-Closing Door Hinges
Snap-Closing Hinge: This type of hinge has a design feature, usually a spring, that helps pull the door in and keep it shut when the door is brought within a few inches of being closed. Sometimes referred to as ''self-closing.'' Strictly speaking, however, ''self-closing'' is actually a broader term that can mean either ''snap-close'' or ''soft-close''. Snap-close hinges close abruptly, while soft-close hinges close slowly. Shop for Snap-Closing Door Hinges
Free-Swing Hinge: This means the hinge can move freely along its path from open to closed. There is no closing assist or catch feature to keep the door shut. These are often made available as an option to identical Self-Closing Hinges so you can use one of each when the self-closing force would otherwise be too abrupt. >> Shop for Free-Swinging Door Hinges
Common Types of Cabinet Hinges
Now you are ready to select the right cabinet hinges for your project. Our Cabinet Hinge 101 Video should have given you an overview of the different types of hinges.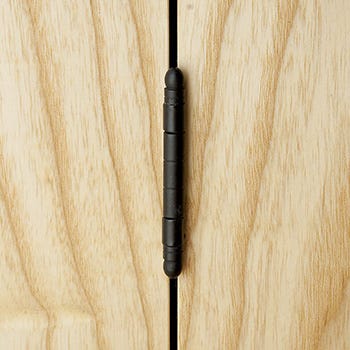 Butt Hinges and No-Mortise Hinges:
The quintessential traditional hinge, it's composed of two pivoting plates whose interlocking fingers form a barrel and are held together by a pin. One plate is attached to the door; the other, to the cabinet. Butt hinges sometimes require a mortise in the door and/or the cabinet to prevent an excessive gap.
No-mortise hinges are a style of butt hinge that minimizes the gap between the edge of the door and the cabinet. No-Mortise hinges accomplish this by folding within themselves when closed. This reduces the effective thickness of the hinge to the thickness of one leaf. This also allow the hinges to be surface mounted (without mortising the door or the cabinet).
Learn More About No Mortise Hinges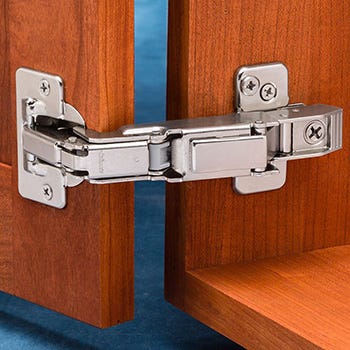 European Hinges: A type of concealed hinge especially popular on frameless Euro-style cabinets but also available for face-frame applications. European Hinges have a mounting plate that secures to the cabinet and a cup that seats in a (typically 35mm) circular mortise drilled in the back of the door. One popular benefit of Euro-style hinges is that they offer adjustment in two and sometimes three directions, making it easy to fine-tune the alignment of the door.
Side adjustment regulates the gaps between doors, cabinets and walls for perfect parallel alignment. Height adjustment aligns doors precisely at top and bottom. Depth adjustment (not always available) lets you bring door faces in line with the vertical front of the cabinet. Another benefit is easy removal of doors for cleaning and refinishing.
Learn More About European Hinges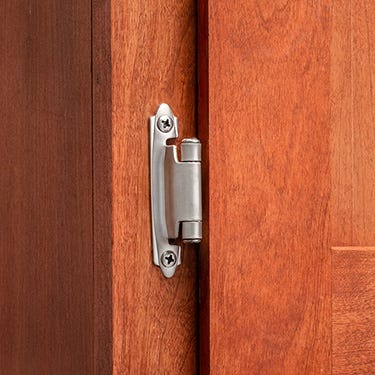 Semi-Concealed Hinge: A semi-concealed hinge is partly visible from the outside of the cabinet when the door is closed. A semi-concealed hinge may incorporate details such as a decorative ball tip or finial tip.
Learn More About Semi Concealed Hinges
Cabinet Hinge Glossary of Terms
For a complete list of hinge terms visit our Hinge Glossary. This glossary includes all the important terms you need to know related to hinges and hinge installation.
And don't forget that we have an expert staff in our stores, online and available by phone to help out if you have a question that's not answered here.