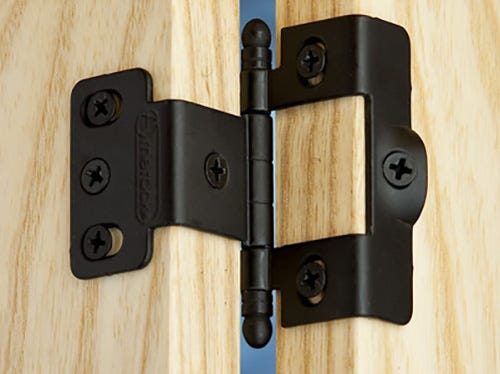 No Mortise Hinges are a style of butt hinge with leaves that nest inside themselves when closed. This guide explores the different types of no-mortise hinges available, and will help you pick the right one for your next project.
What is a No-Mortise Hinge?
As its name implies, a No-Mortise Hinge is a hinge that doesn't require a mortise (a routed or chiseled recess) to fit into. The term almost always applies to butt hinges, since those are the hinges that traditionally require a mortise.
No-Mortise butt hinges are used on full inset doors, where their nested leaves provide a slim, consistent gap between the door and face frame. They offer the classic aesthetic appeal of a butt hinge, with narrow gaps and precisely fitted doors, plus two huge benefits: easy surface-mount installation, and, if the hinge has slotted holes, adjustability. Traditional butt hinges are fixed in place by the mortise they fit into, but no-mortise butt hinges are free to slide, giving you the ability to adjust the hinge whenever needed. Even if you really bungle things and have to completely relocate the hinge, it's easy to do because there is no misplaced mortise that needs to be filled.
---
Hinge Tip

Use a self-centering bit to ensure the holes are accurately located. Since no-mortise hinges have slim leaves, and the leaf thickness determines the gap between door and face frame, it's important that the screws seat fully. Self-centering bits ensure fully seated screws, and hinges that close fully.
What Types of No-Mortise Hinges are Available?
| | | |
| --- | --- | --- |
| | | |
| Flat Leaf Hinge | Single Wrap-Around Hinge | Double Wrap-Around Hinge |
No-Mortise Hinges come in three basic types: Flat Leaf, Single Wrap-Around (with one bent leaf), and Double Wrap-Around (with two bent leaves).
Flat Leaf: With a flat leaf hinge, you can vary the stock thickness of your door and/or face frame. There is no folded leaf that restricts you to a particular stock thickness. This gives flat leaf hinges a great deal of versatility, as long as the length of the hinge scales nicely with your project.
Single Wrap-Around: The single wrap-around/partial wrap-around versions offer the benefit of easier installation and more adjustability. Since the folded leaf registers against the back of the door, the hinge registers itself to the correct position. Perhaps more importantly, if the holes are slotted, the wrap-around leaf allows you to enlarge the gap between the door and face frame, if desired. This also gives you some flexibility when aligning the doors to the opening and to each other.
Double Wrap-Around: Like single wrap-around hinges, double wrap-around hinges offer some adjustability of the gap, and the angled leaves register themselves for easy installation. Since both leaves are folded, however, the door and face frame must be the same thickness (typically 3/4''), and the doors will always be perfectly flush with the face frame on the hinge side.
Shop by special hinge type: Flat Leaf | Single Wrap-Around | Double Wrap-Around
---
Hinge Tip

If you're building from scratch, be sure to select your hinges before you get started. Since no-mortise hinges are visible when the door is closed, you'll need to be sure you can find knobs and pulls that you like with matching finishes.
What Finishes and Styles are Available?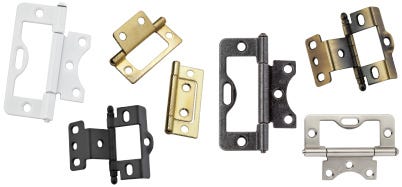 No-Mortise hinges in a variety of styles and finishes
No-mortise hinges are offered in a wide variety of finishes, making them an excellent choice for cabinets where the hardware will make a distinctive design statement. The tip can vary from a simple flat tip to a ball or finial tip. The size of the hinge knuckles can also vary to suit large or small cabinets.
---
Hinge Tip

If your doors are large, consider how many hinges you'll need per door. You do not want to install too many hinges on a door, but you need enough to support the door over time. Two hinges are the common configuration, but for larger doors, three or more hinges may be needed.
When Would a Traditional Butt Hinge be a Better Choice?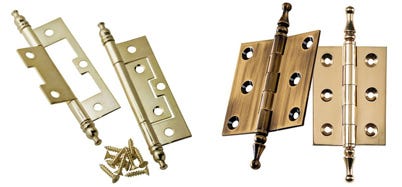 No-Mortise hinge (left) vs traditional butt hinge (right)
Convenience has made no-mortise butt hinges more and more popular over the years, but some woodworkers still delight in fitting their inset doors with as thin a gap as possible, sometimes so thin that the door eases itself closed on the cushion of air inside the cabinet. Since the minimum gap of a no-mortise hinge is defined by the thickness of the hinge leaf (usually around 1/16''), the gap can't be any thinner. So if razor-thin gaps are something you aspire to, traditional butt hinges will allow you to achieve it by adjusting the mortise depth.
Special Consideration: Degree of Opening?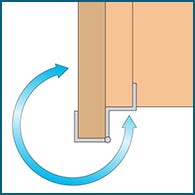 270 degree opening
Typical no-mortise hinges swing open 180° before the face frame stops the door. But in certain situations where you want the doors out of the way for an extended period, you may want the door to continue opening past 180° and come to rest parallel with the cabinet side. This is where a 270° no-mortise hinge is useful. Note, however, that 270° no-mortise hinges are overlay hinges, not inset, so they will provide a different look than typical no-mortise hinges.
That closes out our quick guide on Torsion Hinges! Don't forget that we have expert staff in our stores stores, online and available by phone to help out if you have a question that's not answered here.