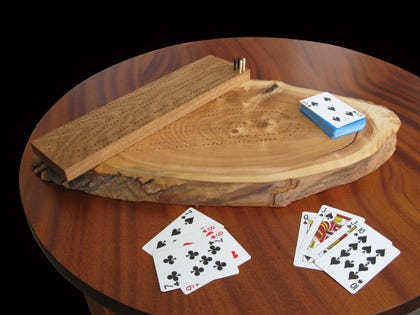 Cribbage is an old and popular card game, enjoyed by both young and old. And recently, it has had a bit of a popularity rise on college campuses. All this adds up to the fact that cribbage boards make great gifts.
And the additional benefit to the woodworker is that you can make a cribbage board from small pieces of wood. Talk about a win-win!
It's Easy with a CNC Router
When making a cribbage board, the only real woodworking problem to be solved is how to drill 240-plus holes accurately and efficiently. And that is where the CNC router comes to the fore. We have provided CNC programing of this cribbage board  - click here to download both .CRV and .TAP files for free.
The accuracy and repeatability of the CNC simply cannot be beat when it comes to boring all these holes. Our CNC programmer, Ralph Bagnall — a regular contributor to the Woodworker's Journal — set it up so that the machine "peck drills" three times per hole. That keeps the holes clean and the 1/8-inch router bit from getting dull quickly. It does mean that it takes a good while for the machine to complete the drilling process. But trust me, even if you were doing this old-style on the drill press, it would take a good long time to get it done.
No CNC? No Problem!
Speaking of that, if you don't have a CNC at your disposal, we have provided a link to a cribbage board pattern (click here to download the cribbage board pattern). Or you can purchase a pattern and drilling template that you can use to achieve the same results. If that is your choice, consider purchasing the self-guided drill bit as well. We've also provided a link to purchase cribbage pegs, however you choose to make the project.
To do this project on a CNC is simplicity itself, especially with the provided .TAP files. But, as with nearly any woodworking operation, always test the cutting program from start to finish on scrap lumber of some sort. It is worth investing the time and effort.
Cribbage Board Jigs
If you don't have a CNC and you want to speed up your production or need to make several boards, then template jigs are your best bet. Here are two that work well.
Standard-Sized Cribbage Board Template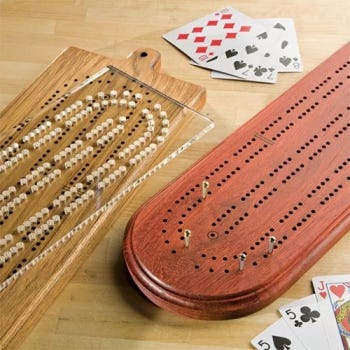 This standard-size cribbage board jig is available in an oval pattern and rectangle pattern.
Super-Size Cribbage Board Template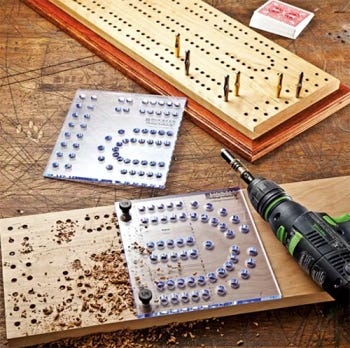 Make a cribbage board that will really make a statement. This XL Cribbage Board Template is a two-piece template that's designed to make a cribbage board that is roughly 6-in. x 26-in.