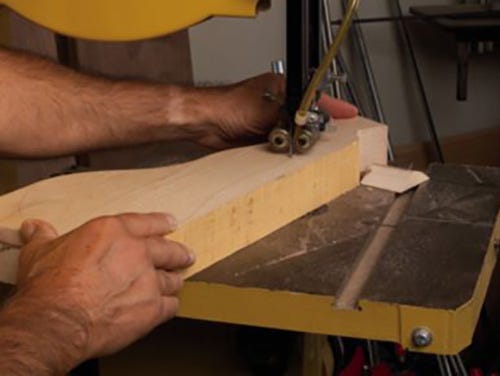 If your band saw will quickly wiggle any unattended piece of stock off the edge of the table, you're definitely not getting the quality of cut you deserve, and in all likelihood, don't look forward to using your saw all that much.
Vibration is the enemy of smooth band saw cuts. Fortunately, solving band saw vibration problems is often just a matter of maintenance, and comes with the option of making an upgrade or two that can really make a difference.
With all of the moving parts on a band saw, possible sources of excess vibration are many, but none are so likely and easy to correct as a worn or inferior drive belt. Old, worn out v-belts, or a cheap belt rife with lumps and inconsistencies, will unquestionably translate into unnecessary vibration on any power tool. But surprisingly, many people will go right on using these inferior drive parts, regardless of the sacrifice they suffer in the tool's performance and the hit they take on its longevity.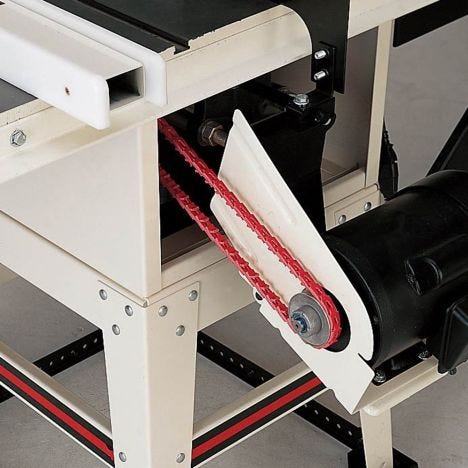 Getting rid of a questionable drive belt is a great opportunity to bring your saw's vibration output to an all time low. Yes, it's true – the belt you choose does make a difference. And for smooth operation and ease of installation, we don't know of a better choice than the unique and cleve Power Twist Link Belt. Made up of interlocking segments of polyurethane elastomer and multiple plies of polyester fabric, the Twist Link can be tailor-made to the optimal length for any power tool. Once it's there, the elastomer and fabric links will retain their shape, provide smooth and consistent power transfer and reduce vibration by up to 35 percent. The change can be dramatic.
Band saw tires are another likely source of vibration. Tired tires, caked with pitch and dust or full of cracks and missing chunks, can not only contribute to blade and saw vibration but can also cause major blade tracking problems. Assuming the drive train is in top working condition, a new set of tires is your best bet in smoothing out your saw's performance. And here again, you have the opportunity to reap the rewards of using premium band saw parts. Urethane Band Saw Tires stay smooth and flexible far longer than standard rubber band saw tires, improve tracking, and give your blade a soft, consistent ride.
Even better, they go on without messy glues or the down time that standard rubber tire R&R usually involves. To install urethane tires you just heat them up in a pan of hot water and stretch them into place. And even though the process can take a little muscle and a couple of clamps, the comparatively easy installation is just about tied with performance for what our customers like about them most.
In a vast majority of cases, these two relatively easy maintenance steps will greatly smooth out a shaky saw. But you don't have to wait until your saw's wiggling its way across your shop floor. For the cost and the amount of time involved, even a saw that seems okay can be a good candidate for vibration therapy. In about a half an hour you can have the whole treatment done, and you may find that you just didn't know smooth your saw could run.