I've recently built a picnic table and two Adirondack chairs from cedar. They're nailed and screwed together, and I've sanded them as needed to prepare for finishing. What suggestions do you have for preserving them for the outdoors? Should I stain them, put a finish of tung oil, linseed oil or something else on them? I want them to look and age naturally, but I also want them to last and look good. - Dwight L. Self
Tim Inman: Cedar is one of the few woods that will be just fine outdoors without any input from man. It will age and turn gray. It will last forever. Your glue and screws/nails will not, though. Use stainless steel hardware and waterproof adhesives whenever you can. Cedar will also outlast any finish you put on it. The finish will fail by halves, and it will look awful for most of its failing life. I like just plain old unfinished soft, smooth, beautiful, natural, silvery gray cedar outdoors. Will it really last? Well, I have cedar posts here on Oakdale Farm that were put in the ground by my great-grandfather over 100 years ago. They're still good!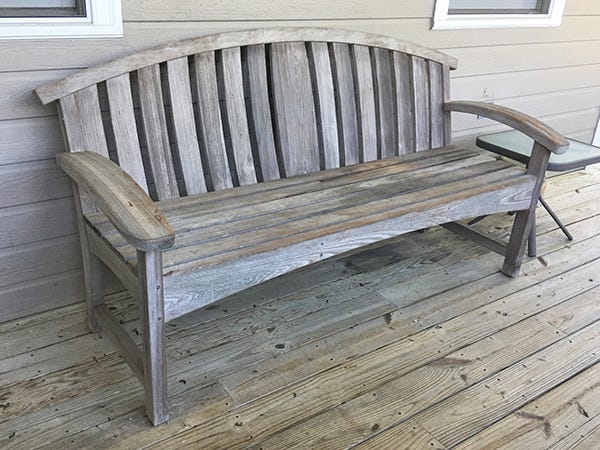 Chris Marshall: This is one of those finishing topics where, if you ask 10 woodworkers, I'll bet you'll get nearly 10 different answers. So, here's a different question that might help: How much routine maintenance are you up for? If you use a film-forming finish like spar varnish, it'll only last a couple of years before you'll need to scuff-sand and reapply. You'll have about the same maintenance schedule if you decide to color the wood with an oil- or water-based exterior stain, because the color will eventually fade. But the upside to oil-based stain is that all you'll need to do to revitalize the color is clean the wood and reapply. There's no need to strip off the old finish or re-sand — the new stain will soak right into the wood again. Water-based stain tends to act more like paint, in my experience, and it can peel.
I think cedar doesn't really need to be stained anyway, because its natural light brown color is beautiful all by itself. So, I'd take Tim's advice: just let the wood start out brown and fade to gray naturally. It's the "no muss, no fuss" approach. Weathered cedar and its cousin, cypress, both have a rustic charm to them. Not everyone cares for the silvery gray result, but I do.