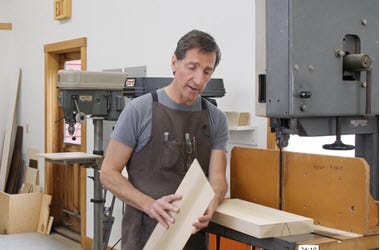 The band saw is an essential machine to have in the workshop. It's a machine that can do many tasks that other machines can't. One of those tasks is resawing. Resawing is basically cutting large stock down, generally in its longer length but, the band saw is also capable of cutting stock into shorter widths to dissect boards into parts that can be used for smaller components and furniture. Additionally, the band saw is the one machine in your shop that can resaw veneer.
How To Re-Saw Veneer and Boards on The Band Saw with Tim Rousseau
In this video, Tim Rousseau, an instructor at the Center for Furniture Craftsmanship, demonstrates how to resaw on the band saw.
There are a lot of subtleties in getting the band saw set up. Before getting started check to make sure that the blade is sharp, if it's not sharp, you'll want to put a new blade on. Here at The Center, we use 1/2 inch 3 TPI carbon bands, they're a hook-tooth and a very good general purpose blade. If resawing is more than the occasional task a 1-inch carbide-tipped blade with a 1 or 2 TPI can be very useful. But, for average shop resawing, the 3 TPI blade works just fine.
The setup of the band saw is important, make sure the wheels are co-planer and the wheel tires are crowned, and the blade is riding appropriately on the wheel and the guides are set to that relationship. You want a nice fit between the guides and the blade so there's not a lot of opportunity for the blade to wander left and right. Every machine is different so the set-up on your machine might be vary.
Another important piece of the equation is a fence. It can be the factory fence that comes with the band saw, or a shop made fence. You want to make sure that it's adjustable for drift. When you're sawing a board sometimes in order to cut a straight line the board needs to be skewed as it travels through the saw.
Check out the video above for a step-by-step walk through of how we resaw veneers and boards using the band saw at the Center of Furniture Craftsmanship.
Related Product Categories