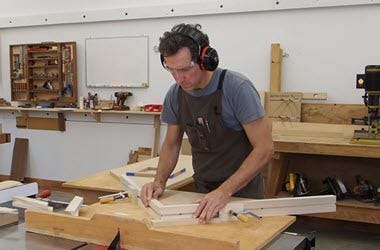 A frame miter is just like it sounds; cutting miters on wood that will become a picture frame or door frame. This is different from a carcase miter, which is generating a box through mitering, and a different cutting process. There are multiple methods of cutting frame miters, such as using a miter fence on a table saw or using a chop saw. This video introduces a specific shop made jig to cut perfect miters.
How to Cut Frame Miters with Tim Rousseau
In this video, Tim Rousseau, an instructor at the Center for Furniture Craftsmanship, demonstrates how to cut frame miters and specifically using a jig that slides on the table saw. This shop made jig is basically a sled with a ninety-degree corner presented at forty-five degrees to the blade. The beauty of this is that even if the blade or sled are slightly off ninety-degrees, cutting from both sides will give a complementary angle where the two components will add up to ninety.
As with any project, add indicating marks on the "side up" surfaces of the components. Make the first side's cut on all components using the stop block on the sled. Then use the stop block (cut with a forty-five-degree angle) on the other side of the sled to set the measurement for the cut on the other side of each component and cut them making sure the upside is up.
It may seem like an extra step to make a frame miter sled, but it is a sure way of making perfectly cut frame miters each time.
Check out the video above for a step-by-step walk through of how we cut frame miters at the Center for Furniture Craftsmanship.
Related Product Categories