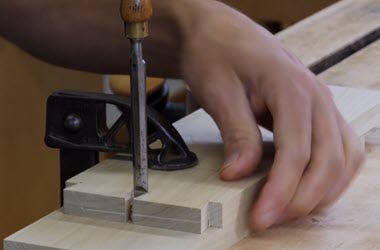 A dovetail joint is made from a set of hand cut interlocking wedges often referred to as "tails" and "pins". Dovetail joints are known to be one of the strongest types of joints. When cut correctly and accurately, it's almost impossible to pull the joint apart. Depending on your project there are several different types of dovetail joints to choose from.
How to Hand-cut Through Dovetails with Tim Rousseau
In this video, Tim Rousseau, an instructor at the Center for Furniture Craftsmanship, demonstrates how to cut through dovetails. A through dovetail is a set of dovetails that you can see from two sides of the joint. It is the most basic method of creating a dovetail and is commonly used for joining the corners of frames, boxes, and cabinets.
#5 How to Hand-cut Through Dovetails from Woodschool Maine on Vimeo.
A Few Basic Considerations:
When laying out a set of tails you want to balance the joint for strength as well as visual appeal. The first step is to decide what angle to use. A good average angle is 1 in 7. Using a straight woodworker's ruler with 1 inch blade and a T-bevel gives you an easy way to mark your board.
For the Dovetail, when the joint fits together, you want some of the fibers to pass by one another, so there is a bit of overage that gets planed off after the joint is created. It's much easier to plane off end grain than it is to take down a whole side if you didn't insert it deep enough. We'll use a cutting gauge to score the shoulder line of both the tails and the pins.
Check out the video above to see each step of the process.
Related Product Categories