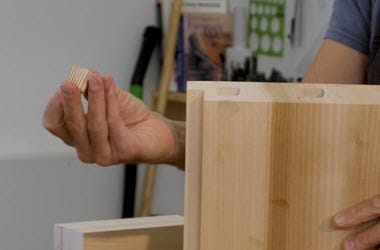 L-tenons are a new popular joint that is incredibly strong. The L-tenons are inserted into mortises that are routed into the carcase sides with the grain allowing more length for glue bonding, unlike a lot of reinforcing joints that go into miters perpendicular to the cut face. This video walks through the straightforward and accurate process that the Center for Furniture Craftsmanship has developed over the years to make L-shaped tenon joints.
How to Join Carcase Miters with L-shaped Tenons with Tim Rousseau
In this video, Tim Rousseau, an instructor at the Center for Furniture Craftsmanship, demonstrates how to strengthen a carcase miter with a L-Tenon joint. As with the layout of any woodworking project, take into consideration the other joinery and hardware components to make sure that the mortise locations will not interfere. When deciding how many L-tenons to include, keep in mind the point of diminishing return strength-wise; start with a mortise in the middle and the outer mortises at least 1/2" from each side.
A great way to cut the mortises without highly specialized tools is with a plunge router and two guide fences. Hinge two mating joint surfaces for routing and secure the components, route each side and flip the router setup to route the other side. Next miter all components on the table saw.
Using 1" Baltic birch is recommended to make the strongest L-tenons or glue up Baltic birch until it equals 1" thick. Measure the length of the mortise and rip the tenon stock so they will be less deep than the mortise. Once the squares are cut to size, bandsaw out the waste to create the L shape.
Check out the video above for a step-by-step walk through of how we join carcase miters with L-shaped at the Center for Furniture Craftsmanship.
Related Product Categories