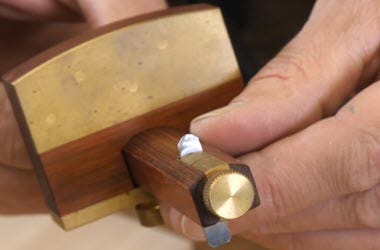 Cutting Gauges are like marking gauges, except they use a knife instead of a pin. A cutting gauge is most often used for scoring across the grain when marking long shoulders of joints but, they can also be used for cutting small strips of wood veneer. Like any cutting tool, a cutting gauge works best when sharp and well-tuned.
How to Tune A Cutting Gauge with Tim Rousseau
In this video, Tim Rousseau, an instructor at the Center for Furniture Craftsmanship, demonstrates how tune a cutting gauge.
A cutting gauge is an essential tool in furniture making. It is one of three gauges that sometimes get confused. There's a cutting gauge, a mortise gauge, and a marking gauge. The cutting gauge has a single blade and is design to cut across the fibers that run up through the tree. The cutting gauge would be used when you need to score a dovetail or tenon shoulder. You generally don't use a cutting gauge to go with the grain, if you need to make a single line that's when a marking gauge would come into play, if you need to make two lines which is generally done in mortising you would use a mortise gauge.
There are a couple different styles in the cutting gauge blade family, there are Japanese style cutting gauges, Western cutting gauges and in recent years, you'll find wheel-type cutting gauges that use a hard steel disc and an adjustable fence that rides on a beam. Each have their own pros and cons.
Check out the video above for a step by step walk though of how to sharpen each of these cutting gauge styles as well as what sharpening tools you'll need for the job.
Related Product Categories