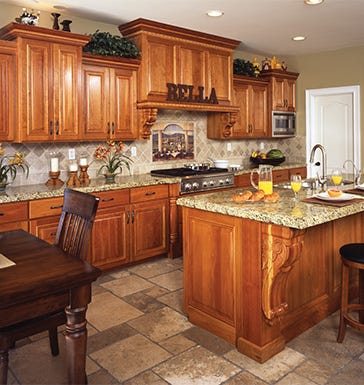 Today's kitchen offers a dizzying array of storage and organization options to maximize space and minimize headaches. This guide will help you make sense of the options so your kitchen can be the lean, mean food-making machine it was always meant to be.
We'll start with the larger storage solutions, which help you squeeze more usable storage out of the same square footage, and work our way down to the smaller-scale organizers, which help you bring order to the chaos of your drawers and shelves.
Tapping Into Existing Storage Space
To get more usable storage out of an existing kitchen, focus on improving access to two primary problem areas: the backs of deep cabinets, where stuff tends to pile up and get forgotten, and corner cabinets, which have the same problem, worsened by the fact that access to the corner is severely restricted.
Improving Access to Base Cabinets—Full Extension Slides and the Pull-Out Shelf
Space that's difficult to access generally goes unused or gets cluttered. One easy way to improve access and make your kitchen storage more usable is to upgrade the drawer slides to full-extension or over-travel slides. You'll be able to store larger items and it will be easier to access them. Check out our Drawer Slide Guide for in-depth help in choosing the right slides.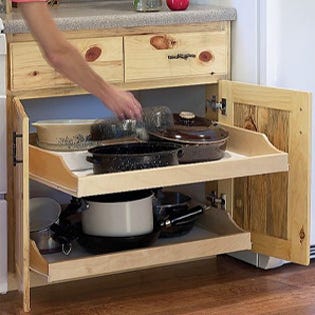 If your base cabinets have doors, another go-to solution for utilizing the full cabinet depth is the pull-out or roll-out shelf (these names are often used interchangeably). Instead of forcing you to kneel down and rummage through the back of a deep, dimly-lit base cabinet, pull-out shelves bring all of the contents out into the light where they can be easily accessed. They function much like drawers, except that they can be adjusted up and down (often using a pilaster system) to accommodate large items like pots. We offer pull-out shelves in a wide variety of kits, either in open shelves for general-use, or for special purposes such as garbage pull-outs, wine storage pull-outs and huge pantry pull-outs.
Click Here to See Our Wide Selection of Pull-out Shelving Units.
---
Organization Tip

In order for pull-out shelves to clear the doors and hinges, the slides need to be spaced away from the cabinet side. Most kits include the required spacers, but if the door is not opened all the way, the shelf can still hit it. To help prevent dents, use our Corner Guards to protect both pull-out and door.
Unlocking Corner Storage—What Type of Corner Cabinets Do You Have?
If you are buying storage accessories for an existing corner cabinet, you'll need to find out what type of cabinet it is in order to find compatible storage solutions. There are two basic types of corner cabinets: blind corner cabinets and lazy Susan corner cabinets. Lazy Susan corners are further divided into 90° and diagonal corner cabinets.
What is a "Blind Corner" Cabinet, and What Do You Do if You Have One?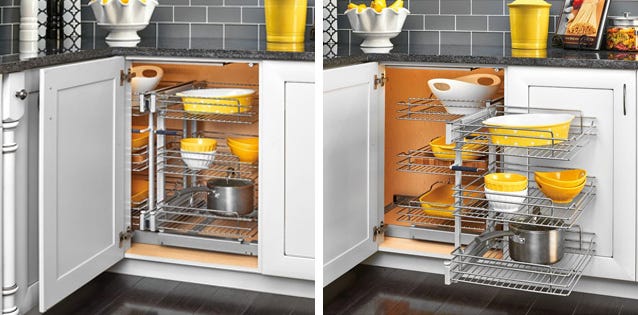 Blind Corner Shelving Units: Sometimes called "magic corners,"" these are amazing works of engineering, involving multiple slides that pull items out of the blind corner in multiple stages. There is no need to remove half a dozen items just to get to the one you need. Pull out the first section, slide it to the left or right, then pull out the second section that was previously hidden.
Click Here to Shop Blind Corner Shelving Units.
Half-Moon Lazy Susans: A somewhat simpler solution to storage in blind corners, consisting of a half-round lazy Susan that swings on a pivot just inside the face frame. Half of the ''half-moon'' swings entirely out of the cabinet for easy selection, and you can reach inside the cabinet to access items on the interior half.
Click Here to Shop Half-Moon Lazy Susans.
---
Organization Tip

The width of the door opening is a key measurement for installing either blind corner systems or half-moon Susans. Be sure to measure the width to ensure you have adequate clearance for the storage unit you choose.
Lazy Susan Corner Cabinets—Types and How to Choose
Lazy Susan corner cabinets are typically built as one cabinet that spans both of the walls that form the corner. The left half of the corner is completely open to the right half, with no obstructions from the face frame, nor any interior partitions. This makes it easier to see into the cabinet and leaves a vast open space for installing a lazy Susan. Read on to find out more about the different types.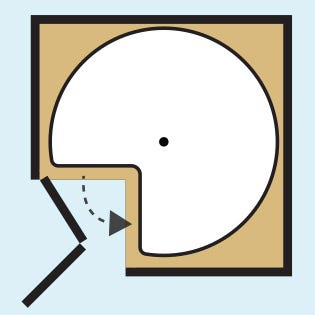 Kidney-Shaped/Pie-Cut Lazy Susan: If the two faces of your lazy Susan corner cabinet form a 90° angle covered by either a folding door, or two separate doors at 90° to one another, then it's a great candidate for a kidney-shaped (sometimes called a "pie-cut") lazy Susan. In this type, the "pie-cut" section aligns with the 90° angle at the corner. When rotated, the shelf projects outside of the cabinet, making it easy to remove items without stooping.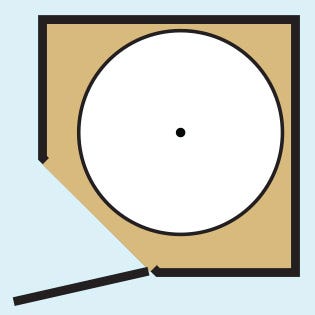 Full-Round Lazy Susan: If the face of your corner cabinet is covered by a single door that spans the two cabinet walls at 45°, then you have a "diagonal" corner cabinet. This type of cabinet is a good candidate for a full-round lazy Susan.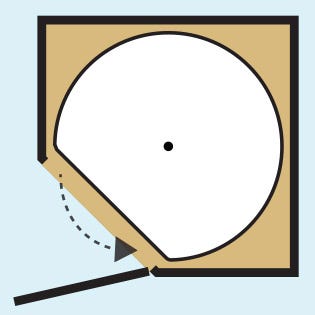 D-Shaped Lazy Susan: A variation of the full-round Susan, the D-shaped lazy Susan is another option for a "diagonal" corner cabinet. Since the flat face of the "D" aligns with the back of the door, you get a bit more shelving area out of the same amount of space.
---
Organization Tip

Though lazy Susans are most often associated with base cabinets, they are also available for upper cabinets, especially uppers with a 45° face in the corner (a "diagonal" upper cabinet). These can be great places for storing canned goods, spice jars and other small items.
Other Storage Options For Small Spaces
Tip-Out Trays: Slim trays that let you use the narrow space between the false drawer front of your sink cabinet and the sink tub itself. Perfect for storing sponges, brushes, scouring pads and small bottles of detergent.
Click Here to Shop Tip-Out Trays.
Swing-Out Pantry Systems: Swing-out shelves that let you "page through" your pantry, all the way to the back of the cabinet, which is lined with traditional shelves. Available for a wide range of cabinet heights, these systems are available in door-mount units, and also units that mount to the inside of the cabinet.
Click Here to Shop Swing-Out Pantry Systems.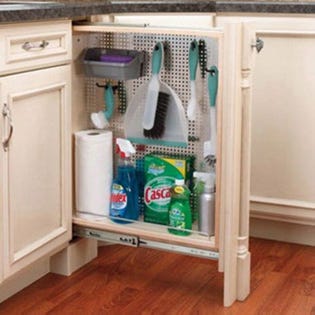 Filler Pull-Outs: "Filler" pull-outs are narrow pull-out shelving units designed to fit behind decorative columns and other cabinetry features that normally eat up usable space. Columns, whether turned or fluted, often flank sink cabinets and range cabinets.
Click Here to shop Filler Pull-Outs.
Organizing the Storage Space you Already Have (or Have Made)
Now that we've made the space to put things in, let's talk about bringing order to the chaos. This is achieved with simple add-ons that, in the day-to-day of kitchen life, make it easy to find the things you need, and easy to put them away.

Kitchen Drawer Organizers/Drawer Trays: These are simple drawer inserts that subdivide the drawer to keep things from getting jumbled. Most are lightweight plastic inserts, and many can be cut to size to fit your drawer.
Tiered Drawer Organizers: Tiered organizers are similar to drawer trays but have multiple layers that slide back and forth, providing access to the different layers. This allows you to fit more storage space into a given drawer, provided the items are small.
Pot and Pan Organizers: Racks, typically made of wire, that let you organize frying pans and other cooking vessels in a drawer or cabinet.
Lid Organizers: Keeps your pot and pan lids in a neat row so they don't end up jumbled in a drawer. Makes it easily to select the single lid that you need so you don't have to dig.
Baking Pan Storage/Tray Dividers: Lets you store baking pans and cookie sheets vertically, making them easy to access without having to unstack items. Also helps to protect non-stick finishes by minimizing contact between selected pans/sheets.
Spice Racks and Spice Tray Inserts: Available in pull-out units or as sawtooth drawer inserts that keep spice jars neatly tipped up for easy viewing of the labels.
Wine Rack: We offer pull-out wine racks for base cabinets, and also wine racks that mount under your cabinets to show off your latest vintage selections.
Wine Glass Holders and Molding: For holding your stemware, we offer wine glass holders that mount beneath your upper cabinets, and also sell Wine Glass Molding that allows you to make your own holders in whatever lengths you need.
Towel Holders: Every kitchen needs a place to keep unsightly dish towels while they dry. We offer many options that let you keep your dirty towels out of sight, but easy to get to when you need them.
---
Organization Tip

For the ultimate aid in drawer organization, don't overlook our Lock-Align system. Not only do you get the ability to customize the system to any drawer size, with whatever removable trays or dividers you desire, but the entire drawer is also lined with a non-slip material that keeps things from sliding around when you open and close the drawer.
And that about does it! You might feel like we've crammed in a lot, but as long as it's well-organized, that's what counts. Don't forget that we have expert staff in our stores, online and available by phone to help out if you have a question that's not answered here.