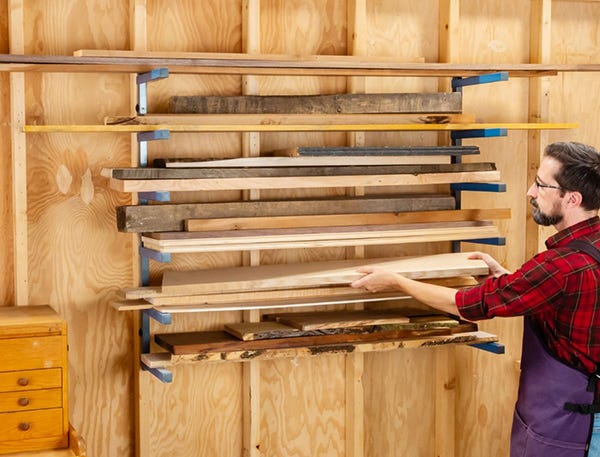 What's the most important thing you need for woodworking? OK, that was a trick question meant to get you guessing about tools and supplies, but the real answer is much simpler: Without wood, you can't do much woodworking.

Having a ready supply of lumber in basic lengths and thicknesses is a basic shop staple. Lumber needs vary according to the type of woodworking you do, but how much you actually keep on hand depends on the amount of room you have in your shop and how efficiently you store it.
Rack 'em Up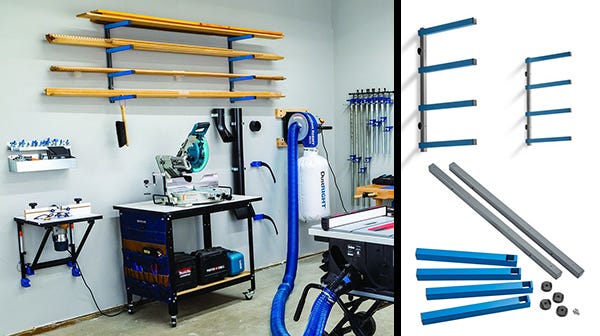 Lumber can be stored anywhere you have room, but it's important to keep it out of the way while working, and yet easy to get to when you need it. Lumber racks fit the bill here.

The value of a lumber rack is multifold. First, racks hold lumber horizontally, which helps keep it flat until you're ready to use it. Lumber that's leaned in a corner or up against a wall will eventually succumb to gravity, which will warp even the straightest boards.

Secondly, having a system of tiers in a rack means you can separate and organize your wood in any manner that works best for you – by species, by thickness, by length, whatever.

Another plus is that racks keep lumber off the floor. While an obvious benefit, the full importance of that may not be readily apparent. You probably don't expect your shop to flood, but if it ever does your expensive wood supplies could be ruined. Even general spills can damage lumber. And if your floor is concrete, which is often damp in a basement or garage shop environment, wood can absorb that moisture.

Likewise, keeping wood off the floor means you're not constantly bending over to get it. Having it up on a rack makes it easier to handle – especially long, heavy boards – and easier to search through to find what you need.

The fastest way to set up an efficient lumber storage system is with a commercially available rack, like the Rockler Lumber Rack (above). Consisting of formed steel upright tubes and a series of horizontal supports that slip onto the uprights, the racks are available in four-tier and six-tier models. Sturdy and strong, each tier will support up to 110 lbs. of lumber.
Shop-Made Racks
To address your specific space and needs, you might also consider building you own lumber rack. Taking this route, you can design the rack to maximize available space or hold considerably larger (and heavier) amounts of wood.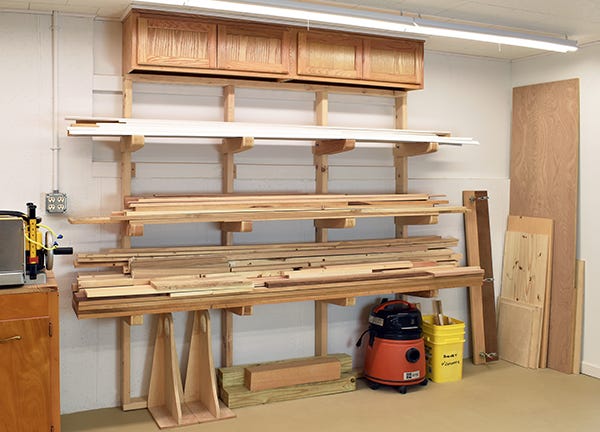 The rack shown here is based on a 2x4 frame consisting of four uprights, with horizontal 2x4s top and bottom to complete the frame. Horizontal lumber supports are made by "sandwiching" a short length of 2x4 between a pair of 1/2" thick plywood side pieces. Once glued together and shaped according to the drawings, the supports slip onto the upright 2x4 frame members. A single 5/16" bolt in the upper rear corner is all you need to keep the supports rigidly in place.

The rack here has three tiers with large open spaces between them, but could just as easily have been designed with four, five or six tiers. The beauty of this design is that more horizontal supports can be added any time, or the existing ones easily moved, simply by rearranging support positions and drilling new holes for the bolts.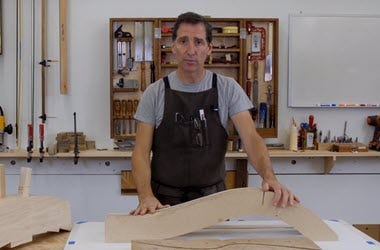 Sheet Goods
When buying plywood or other panels at your local home center, they slide right out of enormous horizontal racks. Few (if any) home shops have that kind of room, meaning that a vertical approach works better in the shop.

Unlike boards, wider sheet goods stack nicely against a wall with less chance or warping. But wider and taller also means bigger and heavier, so once you've stacked a couple sheets of plywood or other panels just seeing what's behind a large sheet of plywood becomes difficult. Shuffling through them to get at what you want, much less getting it out, is even harder. Well, there's a rack for that, too.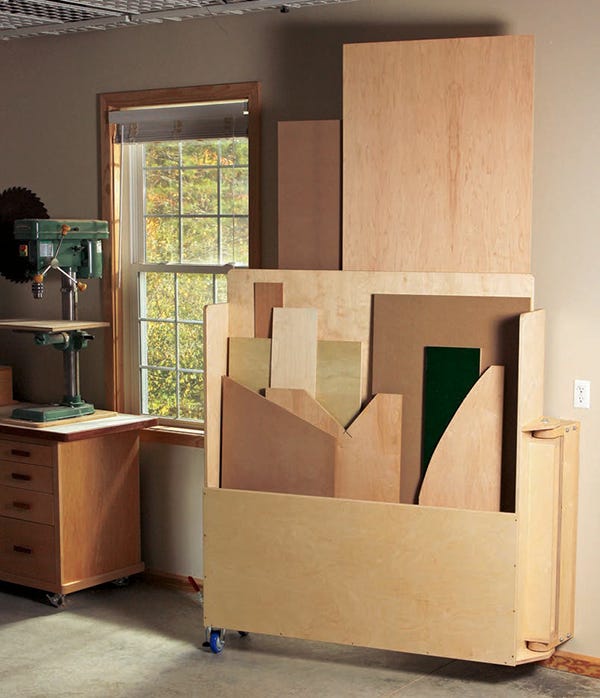 This sheet-goods holder keeps panels upright and out of the way against a wall, but it's designed to pivot out into the shop for greater accessibility. Pivoted at a right angle to the wall, the panels are still upright, but now you can access the sheets from either side of the rack.


Get Free Plans for this Pivoting Sheet Goods Rack
The front side of the rack is enclosed about halfway up, forming an open box that allows you to slip smaller panels down into it in any order or arrangement you like. The back, however, is open to make it easier to place larger sheets upright into the rack, where they're held in place vertically with removable pegs on each side. Casters on the bottom of the rack support the unit, and allow it to freely roll out onto the shop floor when pivoted.
An Anywhere-You-Want Option
Up to now we've discussed lumber racks that stay put, anchored solidly to a wall. But wall space can be a premium in a small shop, especially garage shops where one wall isn't a wall at all, but a large door to which you can't attach anything.

The solution is to stay with the vertical idea, but make it mobile.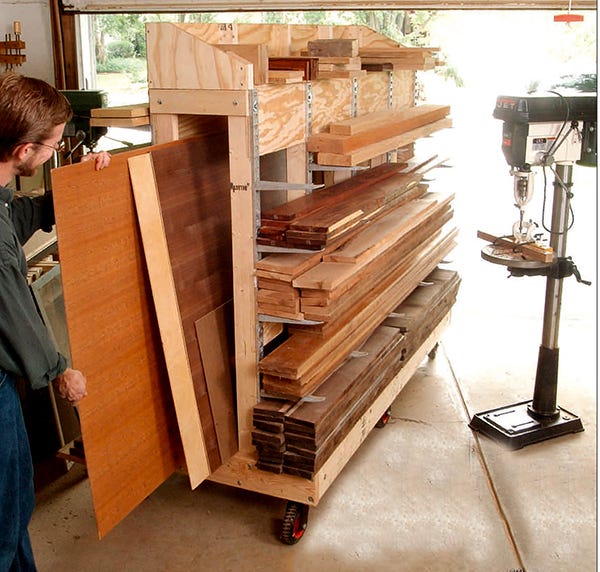 This rolling lumber cart has the same vertically oriented system of tiers to hold boards flat and up off the floor that a wall rack does, but those racks are on the outsides of the cart only. An open section down the middle accommodates panels, even full-size 4x8 sheets of plywood, that slide freely in and out.


Get Free Plans for this Rolling Lumber Rack
Since the unit has some width to it, the flat top is the perfect place to keep small pieces of wood such as turning stock or even cutoffs too nice for the scrap barrel.
The whole thing rolls around on sturdy casters, meaning you can push it out of the way to an unused part of the shop when not needed, roll it out to grab stock to use, and then roll it out of the way again. For a garage shop, you could roll outside if it's a nice day, freeing up even more shop space.
Bits and Pieces
I mentioned a scrap barrel a moment ago, but that was a misnomer. You see, I firmly believe that there is no such thing as scrap – it's all just small pieces of great wood you haven't found a use for yet. In thinking of lumber storage, don't sweat the small stuff. Store it instead.

A barrel of any size, even a 5-gallon bucket, is the perfect place to stash short, narrow cutoffs. For pieces too short for the lumber rack but too long for a bucket, consider a larger shipping barrel. These sturdy cardboard containers are perfect for cutoffs longer than, say, 36" or so.

Mailing tubes can be invaluable in the shop for stashing dowels and thin strips. Placed in a bucket or short barrel, just slip all your dowels into one. If you use a lot of dowels, consider a series of tubes with each devoted to a particular size.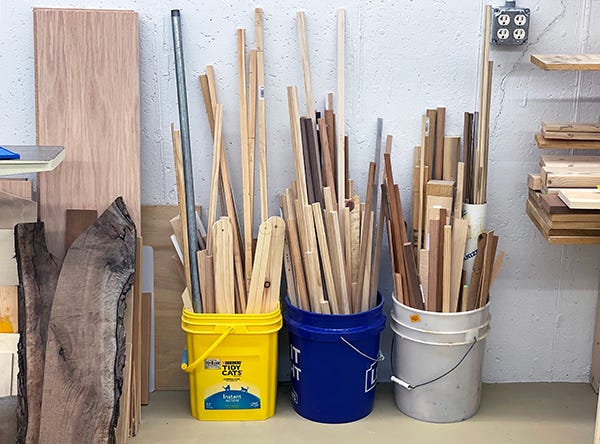 Speaking of buckets, I must have at least a dozen in my shop. Old 5-gallon buckets and even empty kitty-litter bins make themselves useful for cutoff and dowel storage, totes for clamps and tools, and trash receptacles.
Like so-called "scraps," they're too good to toss out.