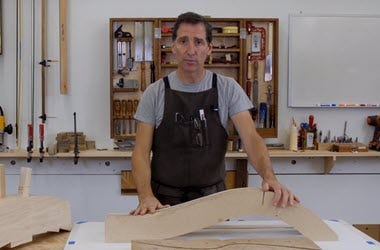 Solid forms for steam bending or laminating on come in all different shapes and sizes and may be made for a variety of processes, such as bent lamination and steam bending. Forms come in two formats: a single bending form and two-part bending form. They can be made out of chip board, MDF, plywood or solid wood depending on the needed tenacity and materials on hand.
How to Make Solid Bending Forms – Part 1 with Tim Rousseau
In this video, Tim Rousseau, an instructor at the Center for Furniture Craftsmanship, demonstrates how to make solid forms for bending wood. As with any woodworking operation, making forms for bending wood begins with drawings, in this case of the parts to bend. An important aspect to consider from the drawing is potential spring back. It is also good to add extra inches on both sides of the form.
Once the drawing is on the template stock, the next step is to band saw out the waste while leaving the line to be able to clean up later. An edge sander or disc sander can be used to clean up the template but be careful to keep it a smooth curve. Hand tools such as rasps, sandpaper, spokeshaves and hand planes can be used to smooth the form with more control to follow the template line. When close to the line, light passes with sandpaper can fix bumps and irregularities.
After the template is exact, trace the shape onto the materials that will become the form and bandsaw out the waste. This does not to be as close to the line, as the next step is to use to the pattern router bit to route to the final shape on the router table. Once the pattern is routed on one template piece it can serve as the pattern for the next pieces to build the form up. Once the form is cut, it makes sense to cut the underside out to have a "sympathetic" surface to clamp to, by band sawing out the waste. Other good things to add to the form are backing posts and feet.
Check out the video above for a step-by-step walk through of how we make solid bending forms at the Center for Furniture Craftsmanship.
Related Product Categories