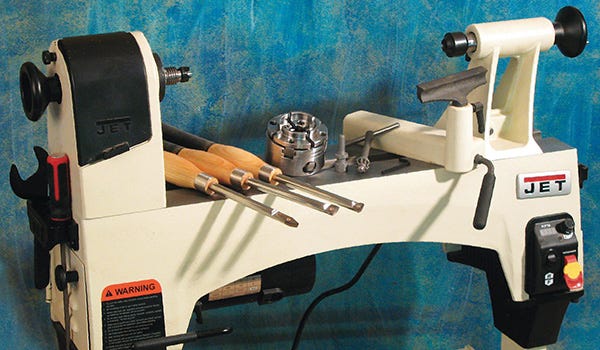 What is the fastest and most economical way to get started woodturning? Our expert gives you his opinion, and it just might surprise you!
You really only need three things to get into woodturning: a lathe of some sort, some tools to shape the wood and a way to sharpen those tools. And now, it may be down to just two things. It's so easy that, with the recommendations that follow, you can be turning in 10 minutes flat!
The Bare Basics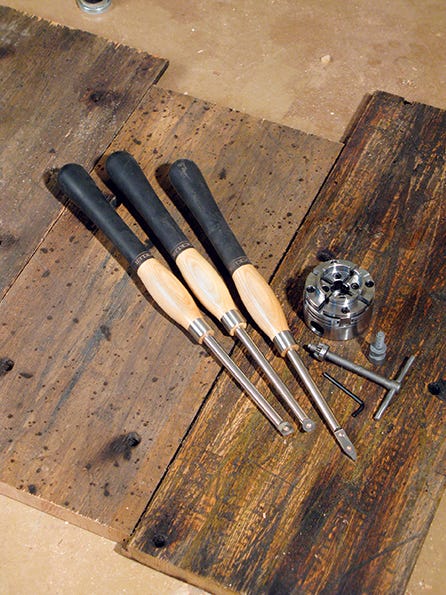 Is the fear of sharpening curved edges putting you off from giving woodturning a go? Carbide insert turning tools are one solution. Add a scroll chuck to your bag of tricks, and you are in the turning fast lane.
You still need a lathe and some tools, but what if — at least as you get started in the craft — you could avoid sharpening your tools? With the carbide insert tools from Rockler, that's the case. The replaceable carbide cutting tips mean that you won't need to sharpen them, ever. They are a very practical way to get your feet wet in woodturning, although if you really get turned on by the craft, you will certainly add some more traditional tools to your arsenal. I know when I started woodturning, one of my concerns was getting a good sharp edge on gouges, because they had those curved cutting surfaces. As an instrument maker, I used many gouges and carving tools, and bringing them to a razor edge was a task that I did not enjoy. These carbide insert tools let beginners avoid that process when starting out. How cool is that?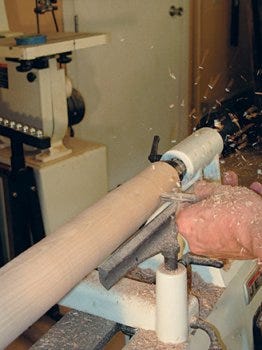 Spindle turning is one of the two types of woodturning to master. A smaller lathe can handle some pretty large chunks of wood, as shown here with 3"-thick ash lumber.
Now, if you need a lathe, what sort should you get? As with most tools, the answer is: the best you are comfortable paying for. My dad used to say, "Buy the best you can afford, and you only cry once." With that said, what we are talking about here is a reasonable way to explore woodturning to see if it is in your wheelhouse or not. Smaller lathes like the JET shown are a good entry point. Used equipment is often a good option if you have the skills to judge whether a piece of equipment is in good working order or not. (My first lathe was a 10-year-old Delta. I used it for seven more years, and when I upgraded it was still working — so I gave it to a friend!)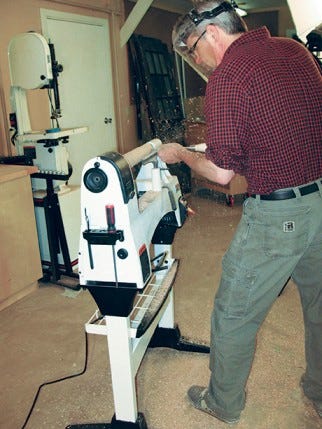 The full-sized square ended carbide tool will work suffciently for roughing out a sticked-up piece of stock. But in truth, a traditional spindle roughing gouge works better for this task and might be a good choice for your first traditional turning tool purchase.
The lathe should have enough power that it won't bog down (a 1/2 hp motor is a minimum), and it needs a way to change speeds, whether that's by changing drive belt positions or other means: you need some control over the RPM of the stock you will be turning. The regular accessories of a faceplate, banjo/tool-rest, drive and live centers should come standard with the lathe, and if they don't, you might want to find a different choice.
One More Thing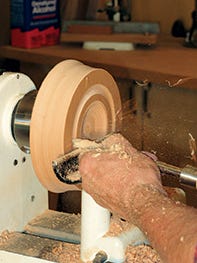 Faceplate turning is the author's favorite type of woodturning. With just a couple of hours in the shop, he can have a completed bowl — finish and all!
Now I am going to add something that is beyond the basics, but it will be so useful right away that I think you should go for it. Get yourself some sort of scroll chuck to make faceplate turning (like for bowl turning) so much easier and faster. You don't need to, but it was a revelation to me when I got one.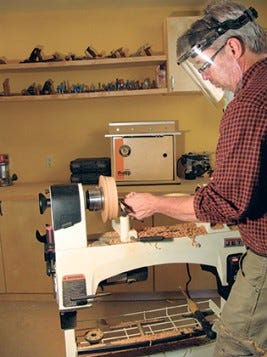 Near-instant gratification is one reason that turning is so popular.
Fair warning: you may pay nearly as much for the scroll chuck as you might for one of the most inexpensive lathes — but if your focus is going to be more towards bowl turning rather than spindle turning, I think you will find the purchase to be worth it.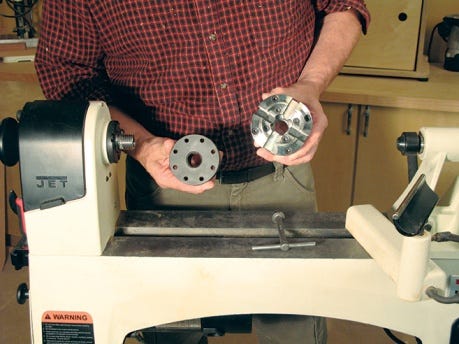 Jump Right In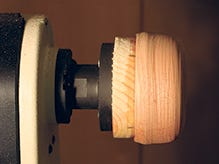 Old-school faceplate turning often involves gluing your turning stock (here, a piece of cherry) to a sacrifical piece of wood (in the photo, a piece of pine) that is, in turn, screwed to the faceplate.
Woodturning's popularity is on the rise, and for good reason. It is a creative and safe form of woodworking that does not require a lot of space. If you are interested and have held off due to the fear of tool sharpening and other "non-flat" woodworking considerations, I hope this has been helpful.
Turning is different from flat stock woodworking in many ways, but the enjoyment of the craft is much the same. If you are curious, you can be turning in 10 minutes!