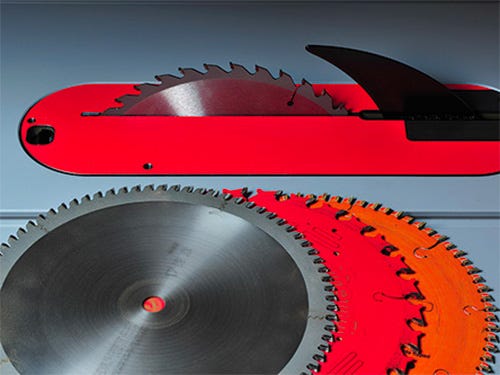 This handy reference guide will help you find the perfect blade for your table saw, miter saw and radial arm saw.
General Purpose Blades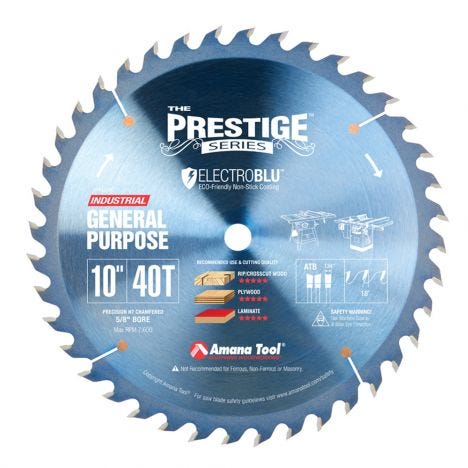 A general purpose blade is a good choice if are planning to cut a variety of materials and prefer not spend time frequently changing from one specialty blade to another. The larger gullets and typically more aggressive hook angle of a 40 tooth ATB blade make it the best choice when faster, cleaner ripping is most important. A 60 tooth ATB or TCG blade with a moderate positive hook angle (5 - 15 degrees) will produce better crosscuts and cuts in veneered plywood and man made materials, and will make acceptable rip cuts at a moderate feed rate. Freud's new Premier Fusion Blade combines an agressive hook angle and large gullets with the clean cutting action of a Hi-ATB Tooth grind for a blade with the widest range of excellent cutting capability.
Veneered Plywood Blades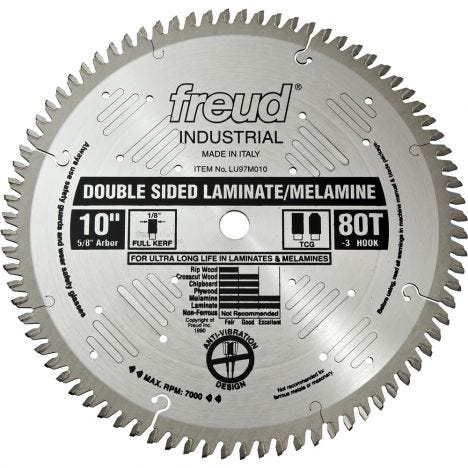 TCG (triple chip grind) blades and HiATB (high angle alternate top bevel) blades are both an excellent choice for cutting hardwood veneered plywood. TCG blades will give superior cut edges on both sides of a variety of difficult to cut materials, and will also stand up to more brittle and abrasive material like high-pressure laminates and particle board. If you are planning to routinely cut particleboard and laminates with your veneered plywood blade, a TCG blade will be the more durable option. HiATB blades will produce near perfect cut edges on the veneered plywood, melamine, and crosscuts in hard and soft wood. High ATB blades may require slightly more care if they are used regularly to cut man-made materials, but the quality of the cut produced by a HiATB blade in wood and melamine is unequaled.
Sliding Compound Miter Saw and Radial Arm Saw Blades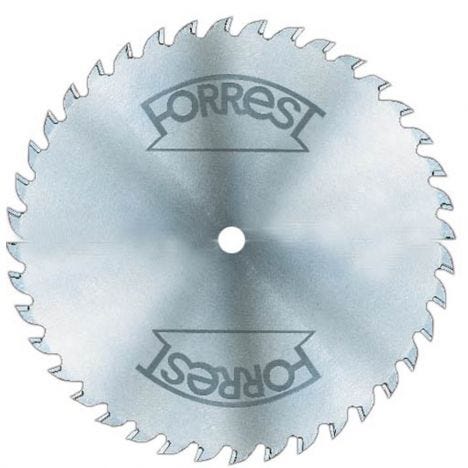 Both sliding compound miter saws and radial arm saws behave differently than other circular saws and require a special consideration when choosing a blade. Both tools encourage the tendency of a saw blade to "climb" the material they are cutting, and can present a potentially dangerous situation if they are outfitted with the wrong blade. In general, blades with a strong positive hook angle are more aggressive and tend to feed faster than blades with a low or negative hook angle, and because of that are more likely to climb during a cut and are not the safest choice for sliding compound miter saws and radial arm saws. Blades with a hook angle of less than 5 degrees are safer to use and produce smoother cuts on these tools.
Crosscutting Blades for Table Saws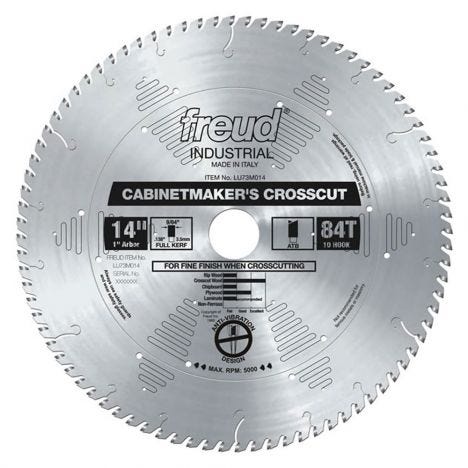 A good crosscutting blade is not necessarily limited to crosscutting hard and soft wood. When you're choosing a crosscutting blade, take the following into account: In general, blades with fewer teeth and a stronger positive hook angle are more aggressive and feed faster than blades with more teeth and a less aggressive hook angle. Blades recommended for crosscutting hard and soft wood generally have between 60 and 80 teeth (for a 10' blade). A blade with fewer teeth - a 60 tooth blade with a hook angle of greater than 10 degrees is an excellent choice for crosscutting hard and soft wood and will also rip wood reasonably well at a moderate feed rate. A quality 80 tooth blade with a hook angle of 10 degrees or less will produce near perfect crosscuts and will outperform most 60 tooth blades with more difficult material, like veneered plywood, but will be less effective for ripping wood.
Thin Kerf Blades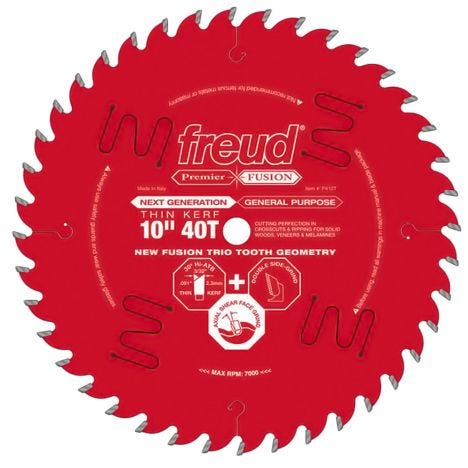 Thin kerf saw blades - blades with a kerf thickness of less than 1/8' - were developed for use on "under powered" saws. Portable and contractor model table saws under 3HP are examples of under powered saws. Because a thin kerf blade has to cut less material than a full kerf blade, it requires less power to operate and allows lower powered saws to cut material at an appropriate feed rate without the risk of bogging down during the cut. A trade-off for the thinner kerf is the fact that thin kerf blades have a thinner blade plate, and therefore run the risk sacrificing a small degree of the blade stability afforded by a thicker, more rigid plate. Vibration dampening systems, like the one Freud LU/LM Series Thin Kerf Blades employ, compensate for the slight loss of stability, and make thin kerf blades the optimum choice for lower powered saws.