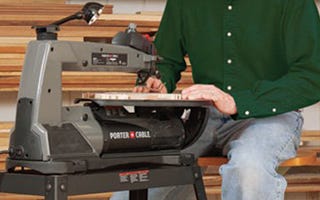 Fretwork and intricate cutting don't have to be expensive, there are some very affordable scroll saws on the market. The late Rodney Dangerfield probably would have felt a solidarity with scroll saws because, among all other woodworking machines, these seem to get the least respect — or more fairly, the least amount of press. When we need to cut curves, we tend to head to the band saw, and that's a logical choice.
It does that task and much more. Still, nothing beats a scroll saw for incredible accuracy when cutting out intricate patterns and complex curves. These machines literally take blades thinner than a pin, and you can feed them through tiny starter holes easily for making inside cutouts. Try doing that with a band saw blade!
The scroll saw doesn't get much press in the shop, but it's incredibly useful, especially if you're doing fine cutting or intarsia. You can spend a small fortune on a professional scroll saw, but we felt the wiser choice would be to review machines priced at under $300 — some of these are well below that figure. That way, you can invest in one of these scrollers at an affordable cost for occasional use and still benefit from its precision and convenience.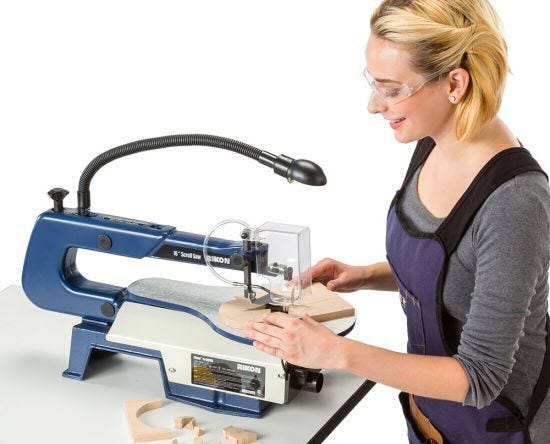 I set these 16" models up with a new reverse-tooth No. 5 blade and turned them loose on a trivet pattern mounted to 1/2"-thick red oak blanks. I considered it to be a good "real world" cutting trial. After steering my way through many little twists and turns, all of these machines were sufficiently powerful for the cutting test. I bolted each one to a piece of MDF and clamped it to my bench, so vibration wasn't particularly objectionable on any saw. So, three make-or-break aspects separated the pack for me: ease of blade changing, clarity to the cutting line and other unique user-friendly features.


Shop Fox W1713
Proxxon DSH-E
Skil 3335-01
Craftsman 21602
Ryobi SC164VS
For a bargain price, both Craftsman and Skil offer good buys, but my "Best Bet" tool honors go to Porter-Cable. The saw leaves nothing much to be desired, and the stand is a welcomed convenience. User-friendly features, ample power and task lighting made for a pleasurable test drive. I found myself cutting more than I even needed to, which is exactly the experience you want from a good scroll saw.