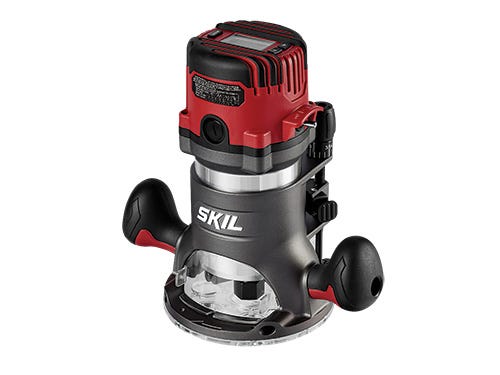 Combining both a fixed base and plunge base with a sophisticated motor, SKIL has stepped up to a new quality level with this router.
Corded routers are certainly work horses in a woodworking shop. Plowing grooves and dadoes, shaping decorative edges, cutting dovetail joints, excavating mortises and shaping intricate parts with a template are all in a day's work for these handheld dynamos. And when they are mounted in a router table, their versatility is enhanced even more. This feature-rich RT1322-00 SKIL router is a promising new option.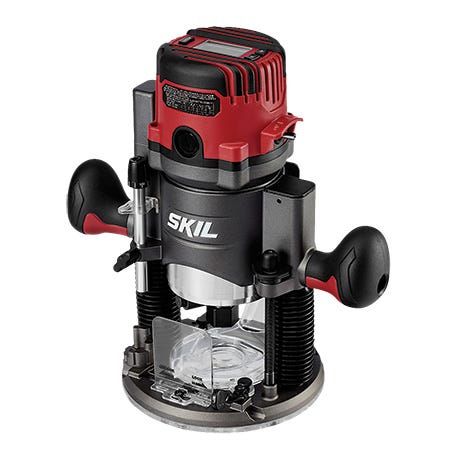 One router motor swaps between two bases.
With its 2.5hp motor, the SKIL offering fits nicely into the mid-sized router niche. The 1322 comes with two bases — fixed and plunge. The motor swaps between the two without tools. Both bases have a dust extraction adapter specifically made for each version, and each is equipped with ergonomically overmolded handles. Cutting depth is controlled by the typical three coarse setting dial and additional micro-depth adjustment.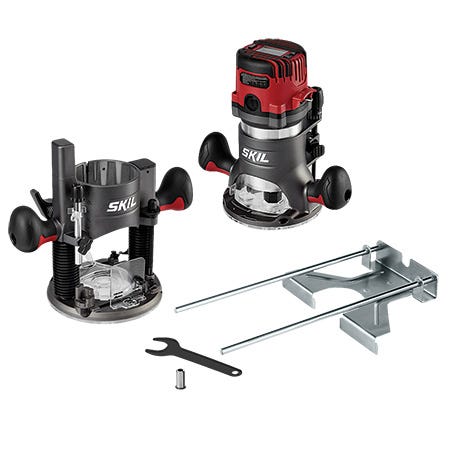 One router doing double duty just makes sense, so SKIL provides both fixed and plunge bases with this mid-sized machine.
While this router is everything a savvy shop master might want, it is also a great option for beginning woodworkers, for a couple of reasons. It has a "live tool indicator," so anytime the tool is connected to power, the indicator lights up. Another is a digital readout on top for its speed control. In addition to simply setting the speed you want, the readout offers speed suggestions relative to the bit you are using and the material you are about to machine. Very handy.
Motor/Power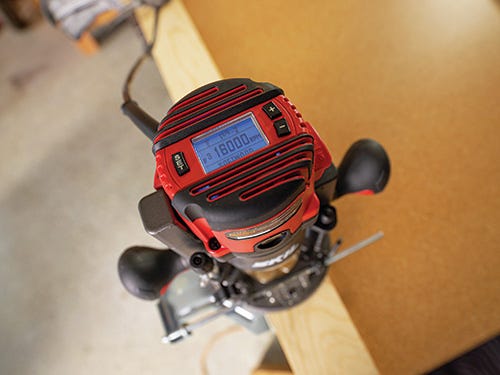 The digital readout displaying real-time rpm is a great feature of the SKIL speed control function. Located in clear view, it eliminates guesswork.
The router is powered by a 2.5hp, 14-amp motor. It features soft start technology that brings the motor up to speed without jerking. (Those of us who have softstart routers will never go back to the old-fashioned, full-on start.) It has electronic feedback to keep the rpm of the bit constant as it cuts, with variable-speed settings from 10,000 to 25,000 rpm.
As with other quality mid-sized routers, this SKIL comes with both 1/4" and 1/2" collets. Also in the package is a parallel guide and collet wrench. The router has a spindle lock, so changing bits requires only one wrench.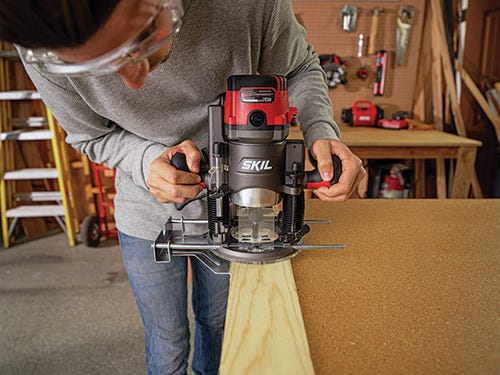 A small point but one that is important to me is that the router has a flat top, which makes swapping bits so much easier when you flip the machine upside down to make the change.
The culmination of all of these features is a well-appointed tool that promises to be both affordable and practical. It would make a smart first router purchase or a tempting addition for any woodworker with sawdust to make.
Shop Score Card
Motor-Soft Start: 2.5hp
Power: 14 amp
No Load Speed Range: 10 - 25,000 rpm
Net Weight: 12.2 lbs
Collets: 1/4" and 1/2"
Height: 10"
Width: 6""
Plunge and fixed options included
Dust extraction adapter for each base
Electronic RPM display, plus speed setting suggestions for bit/material type to be used