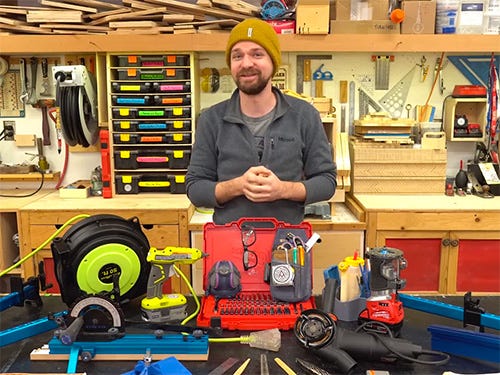 In this video, Michael Alm discusses his twenty five favorite tools from 2020, both useful and affordable.
Michael Alm chooses his top tools of 2020, most of which are below the $50 range and make a great addition to any woodworking shop. He focused on the tools that have improved his efficiency and made working in the shop more fun.
You can find more great projects and techniques from Michael Alm at his website.
Featured Tools: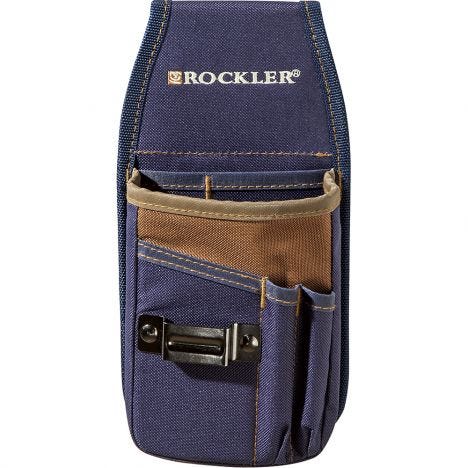 Rockler Marking and Measuring Pouch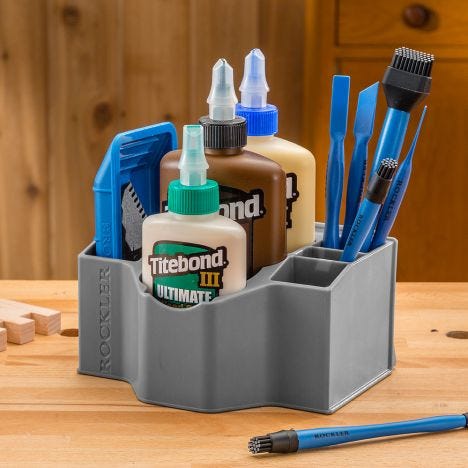 Rockler Glue Caddy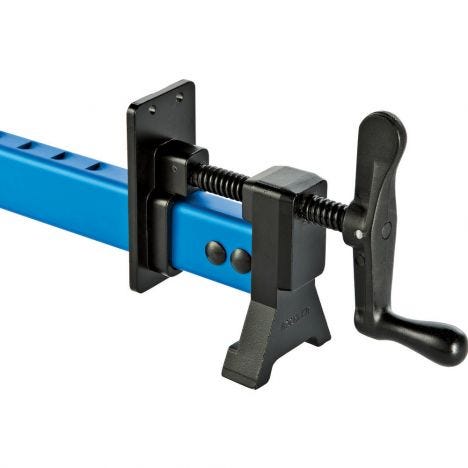 Rockler Sure-Foot Aluminum Bar Clamps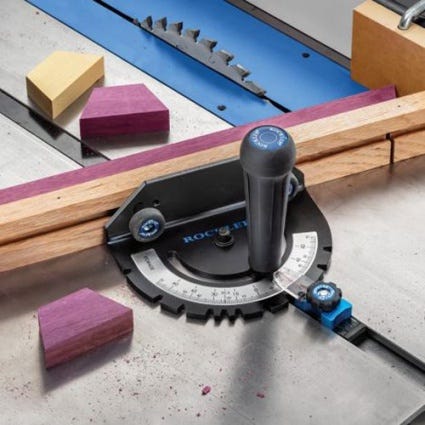 Rockler Precision Miter Gauge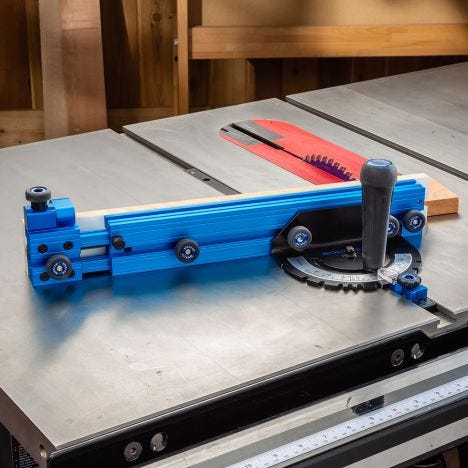 Rockler Miter Gauge Fence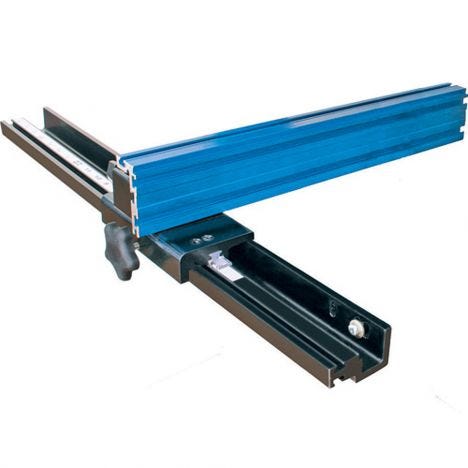 Kreg Precision Band Saw Fence
Michael Alm: Hey, everyone. Michael Alm here. This week, I came up with a list of my top 25 tools from this year, things that have made it just more fun to be in the shop, things that have improved my efficiency in the shop, lots of things that you might be surprised that I use on a daily basis, and you may want to as well.
I've taken a lot of consideration into the price of the items on this list. There are a couple splurge items, but for the most part things are under the 40 or $50 range. The first item I want to talk about is this, the GVS Half Mask Respirator. I've been wearing this all year long, and I've got a lot of questions about it in the comments, but I haven't mentioned it because it's been back-ordered since March. This is a great respirator. If you're used to the old canister style, you'll know that they're really heavy on your face and they restrict your field of vision, this doesn't do any of that. It's also made out of a really soft rubber that I find has a better seal and is more comfortable throughout the day.
One complaint that I might have about it is that it doesn't have keepers for the elastic bands, and when you're pulling it on and off of your face, sometimes they can come loose. I've solved that with a little bit of electrical tape, and it's just fine. If you're looking to upgrade your respirator, this is a great way to go.
The next thing I want to talk about are my safety glasses. I use these every single day. They are awesome. They are made by Magid. These are the wayfarer style, and they've got the little safety side in them. These things are super comfortable, and they only cost $8 last time I checked. They look good. The most important thing to me is that they're not clear.
I've had so many pairs of these where they're clear. These are the cheap ones that you buy at the hardware store, and I lose them all the time. I've had these for the entire year. I have not lost them once. Look at this, you can't see them. These are great. Pick up a pair for yourself.
The next thing I wanted to talk about is a Rockler product. I am sponsored by Rockler. This is an awesome thing, and I could not not mention it because it has probably been the most effective tool that I've brought into my workflow. This has changed the way that I work, made it so much more efficient, and it is, of course, the marking and measuring tool pouch that I've talked about dozens and dozens of times. This thing is great, and I have honed the collection of tools to the point where I know where everything is. I can grab my tape measure. I can grab a pencil. I can grab my knife, and I know where all of it goes back. I highly recommend getting something like this into your workflow, a tool belt, apron, something like that, because it really does up your game. You're not searching for pencils. You're not searching for tape measures. It's all right here, and it only cost 12 bucks.
The next thing I wanted to talk about is the Giaco Whatever Maker Knife. This is a beautiful tool that is made by Giaco. Here's the YouTube channel on here, and he did a Kickstarter to produce these. He's producing a more regularly right now. I checked his website. I believe they're sold out for right now. We'll make sure to hop on his email list as soon as they come out, you can pick one up. I don't know of a box cutter that can swap blades nearly as quickly as this and it's just the action on it is fantastic. Definitely a bit of a splurge item, because it is such a short run thing, but once you have one in your hand, I don't think you're going to want to use another knife in the shop again.
I think it's really important for every woodworker to have a sketchbook in their shop. These are the Moleskine sketchbooks. They're the ones that I've gravitated towards. I've tried all sorts of different types. These ones just hold up for a really long time. I like the flexible back because you can stuff them in your back pocket. You can stick them in a bag. They seem to hold up really well. Highly recommend picking up a Moleskine notebook.
People often ask me what my favorite woodworking book is, and this is it. It's called The Complete Manual of Woodworking, and it is super comprehensive. It's got great illustrations, great explanations of stuff. If you're a beginner, if you're an expert, this is a great book to have in your shop.
I don't think there's a better glue applicator on the market than the FastCap Glu-Bot. This thing allows you to glue from any orientation because it draws all the glue from the bottom up. If you've ever used the Catch Up bottle style, you're always shaking it, trying to get that glue to come out, the Glu-Bot has solved that issue.
I also recommend the caddy that Rockler makes for it. This is a great way to store all of your glue brushes, store your glue, and it's got a hook on the back so you can put it under your work bench when you're done.
This is a simple one but incredibly effective. These are cord wraps. I like to get the color-coded ones so that I can see which tool is plugged into the wall. They now come in spools. These have Velcro products. You just pull one off, wrap it around the cord, and you're nice and organized.
Not everyone has a big drill press in their shop, and a great workaround is a V-Drill Guide. These come in all sorts of different sizes. They allow you to drill a nice square hole, like clamping this block on, and they're super affordable, much cheaper than a drill press.
This next product is pretty Festool specific, but it's a great product. It allows you to keep your cord and your hose together. It's a cord cover. It kind of works like a finger trap where it expands and then contracts along the length of the hose. Other benefit is that when you're using the track saw, and if you have the older generation hose with the ribbing, it won't get caught on the edge of the table, which I had a lot of problems with. This is fantastic, pretty affordable, go check it out.
I used to set up my drill press every time I wanted to drill holes for concealed hinges, it took a lot of time, and then I found this. This is the Kreg's concealed hinge jig. It's really simple, easy to use, and if you make a lot of cabinets, it's going to save you a lot of time.
Another daily use item in my shop is this, the Shinwa ruler. It is a 12-inch ruler on this side and 300-plus millimeters on the other side. I like this one specifically because it starts on the zero mark. It has all the way up to the 64th, and also, it's thick enough so it won't go underneath the table edge.
While we're on the subject of accuracy at the table saw, it's hard not to mention this, the Wixey Digital Angle Finder. I use this to set up my saw blade very time I make an angled cut. The other thing that I've started using is this, which is a digital protractor. There's fewer use cases for this. Sometimes it's nice to have the longer side, or sometimes this won't fit into the correct space. This one is nice to have. This one is indispensable.
Again, I am sponsored by Rockler, and they did send these out for free, but I have put these clamps through their paces this year, and they have held up great. This is the Rockler Sure-Foot Clamp. It still work like the day I got them, and they're just perfect for patterned plywood glue ups, which I'm doing a lot of these days. I like the 24-inch length. Those are the ones that I find myself using the most. These are about 30 bucks a piece, and they go on sale pretty often. So make sure you check out the Rockler website.
New to me this year is the rasp. I really liked these rasps. I started with the Shinto rasp, which is very affordable, very easy to use, and it's got a fine side and a coarse side to it. I quickly outgrew that and wanted to get some different shapes and stuff. Especially if you're getting inside of like a turned leg or something with some shape to it. The Kutzall rasps are great for that. Full disclosure Kutzall did send these out to me for free, but I would happily pay for these things because they've proven themselves incredibly useful. They come in a whole bunch of different shapes and sizes and coarseness. I've left the link down below so you can see their whole line of tools.
If you own a hot glue gun like this, you'll know that it has some shortcomings. The main thing is that the cord always gets in the way, and the little metal stand falls over at the most inopportune times. I picked up one of these. This is the Ryobi hot glue gun that is battery powered. Nice thing about the batteries is that it sets down like a power drill. You can set it on your tabletop. It's not going to knock over. One thing to note is that if you're going to pick one of these up, they're $30 without the battery, and like $120 with the battery. If you already own batteries, you should definitely buy the tool by itself. You could also pick up third-party batteries that are much cheaper than these.
The next few items are going to be on the slightly more expensive side, a hundred dollars and upside of things, but I think they're great value for what they are. This is a workhorse in my shop. It's the California Air Tools 10 Gallon Compressor. It's super quiet, which I love. I can actually sit here and talk over this, and it doesn't scare everybody in the room when it comes on. I love this tool. I've been using it for several years now, and it's just held up great.
If we're going to talk about my air compressor might as well talk about the hose that goes with it. This is the Klutch Auto Rewind system. It's 50 feet long, and it can reach every single corner of my shop. It can actually reach outside, if I'm working outside. It can even reach into my other garage. It's only a hundred bucks. This thing is super handy, and rather than plumbing my entire shop with air hose, I just used this.
Hidden next to my chop saw over here is another reel, it's an extension cord reel. This is made by Flexzilla. It's got three heads on it, and it's also 50 feet long. One thing to note about both of these is that they can be hang from the ceiling if you like.
Let's face it the miter gauges that come with most table saws are junk. They're not very precise. They'll get you by for a little while but eventually, you're going to want to upgrade. For that, I recommend the Rockler Precision Miter Gauge and Fence system. These are two separate elements. Again, I'm sponsored by Rockler. They sent these out for free, but I'm really impressed with the design of them. The miter gauge has index notches all along this ring so that you can quickly set the angle that you want. The fence has both a stop block and an extension rail so you can make lots and lots of repeated cuts.
A couple of months ago, the nice people at Kreg sent me out this bandsaw fence. I've never had a fence on my bandsaw. I've never thought that I needed one but now that I have it, I find myself using it a ton. It is really really well built, really precise, and I just find more and more uses for it. The main thing I've been doing is re-sawing, cutting small parts, and then if I really want a small curve in something, I don't want to lose the material, it's a great way to go as well. If you're looking to upgrade your bandsaw, I highly recommend this.
I first saw this on Adam Savage's Tested. It is a Milwaukee quarter-inch socket set, and it's just about the most organized thing I've ever seen. I've always had trouble keeping my sockets in the correct place, and this has solved it for me. The other cool thing about it is you can either remove the tray, put it into a cabinet, or it has a super nice, super flat carrying case that you can put in your car, keep in your shop, take it on job sites, whatever you want.
Battery-powered palm routers have been around for a little bit, but I feel like they just got to a point where they're really good. This is the Milwaukee Fuel version. It has a speed control. It's got micro adjustments. It also has dust collection, which I love. I haven't put a ton of time on this, but the times that I have used it, it's been fantastic. The battery life lasts for a long time, and it's got plenty of power. I'm really looking forward to using this more in the new year.
Last and certainly not least is this. This is my favorite tool of the year, and it's made by long-time supporter of the channel, Arbortech. This is the Arbortech Power Carving Unit, and I really think they knocked it out of the park with the design of this. This is the first time they've integrated dust collection into power carving, comes with a chip collector, as well as the leveling guide, and a flexible sanding disk. It also allows you to integrate all the different tools and accessories they've been making over the years. It's really a unifier of the Arbotech brand, and I'm super excited to have it in my shop.
Those are my top tools of the year. If you have a top tool, please let me know about it down in the comments down below. I know I would like to read about it. I'm sure others would as well. I want to end this video by thanking everyone who's hopped on the AlmFab crew this year. It's been amazing. I reached 200,000 subscribers this year, and I just can't believe it. Thank you so much. Thank you to my Patreon supporters. Thank you to everyone who's picked up plans on my website, everyone who's subscribed, who's liked our videos, really appreciate it. You guys have helped me grow and allow me to make some really crazy projects this year, and I've loved every minute of it. Thanks so much. I hope you have a happy holiday. I hope you guys stay safe, and I will catch you in the new year.