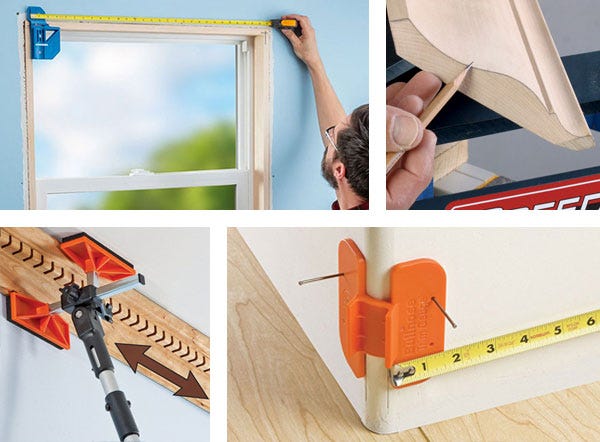 Rockler Trim Gauge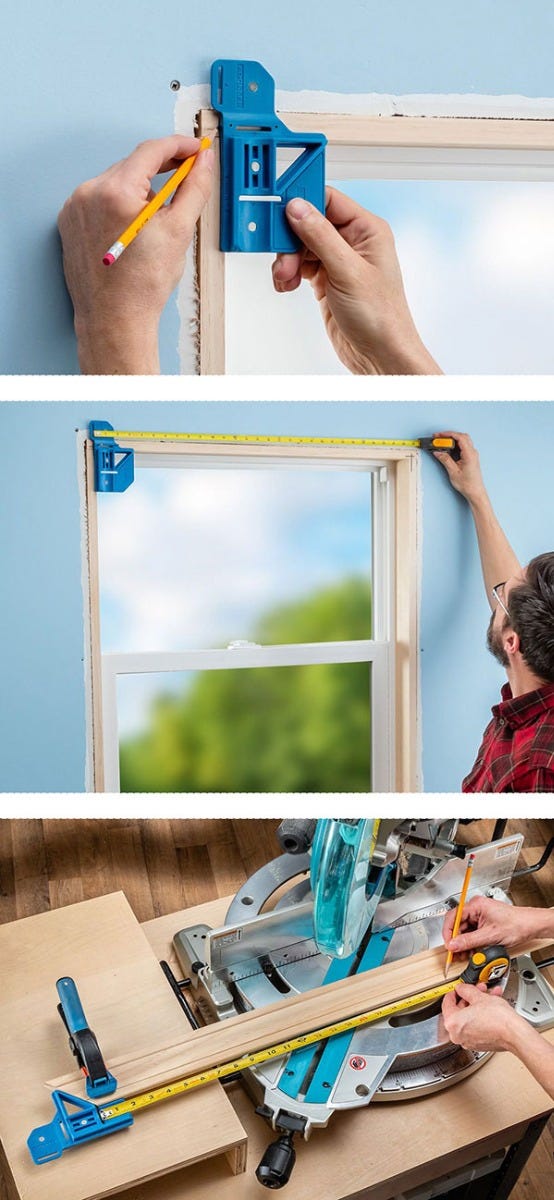 The Rockler Trim Gauge makes it easier to measure and cut window and door trim molding to the perfect lengths. Use the Trim Gauge to mark consistent and clear reveal lines on the jamb and casings (top). Integral rare-earth magnets and hook slots hold your tape firmly in the Trim Gauge while measuring. Attach the Trim Gauge to the window frame to hold the end of the tape and measure the length of short or long windows (center). Then use the gauge to transfer that measurement to the trim molding (bottom).
Bench Dog Bullnose Trim Gauge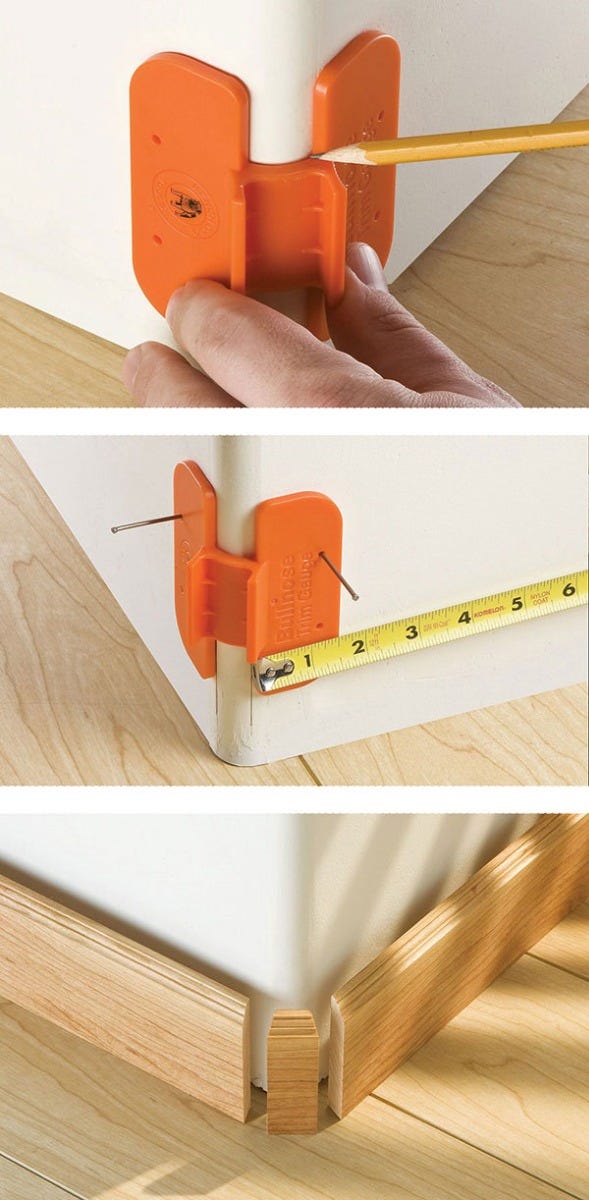 Installing base or crown molding around bullnose wall corners is easier with the Rockler Bench Dog® Bullnose Trim Gauge. This jig simplifies trim work on 3/4" rounded drywall corners with this clever jig. It helps layout perfect lines for tight-fitting three-piece corners. Plus, if you're working alone you can nail it in place to anchor your tape measure. Great for installing both crown and base molding. Durable hard plastic construction will hold up to years of use. .
Bench Dog® Crown-Cut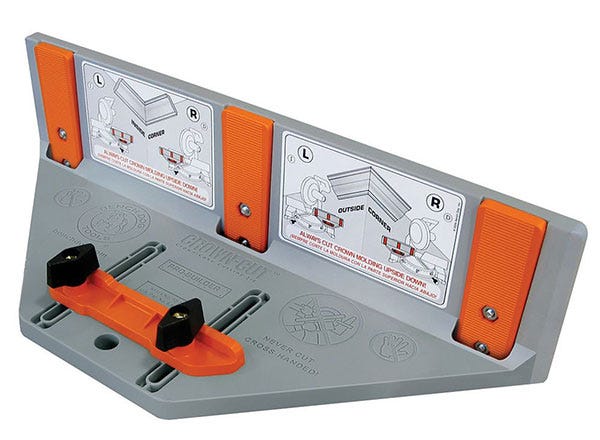 Cutting crown molding doesn't have to be difficult! The Bench Dog Crown Cut eliminates the complication of cutting crown and cove molding, giving you perfect miters, every time. The Crown-Cut holds the molding at its intended angle while you cut it. No more compound cuts and tedious trial and error! Before Crown-Cut, miscalculated compound cuts produced sloppy miters that screamed for caulk and paint.
Rockler Speed-Cope Crown Molding Jig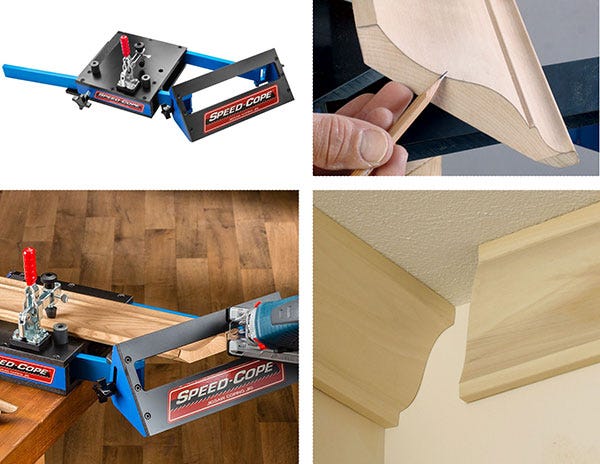 The Rockler Speed-Cope Crown Molding Jig helps stabilize molding when making cope cuts with your Jig Saw. Speed-Cope™ lets you make tricky cope cuts on crown and base molding with ease, for perfect molding faster. It adjusts to handle most molding up to 7-1/4" wide, 45° and 90° inside miters, flat miters, and base, chair, and panel moldings. Includes free do-it-yourself DVD.
Rockler Crown Molding Support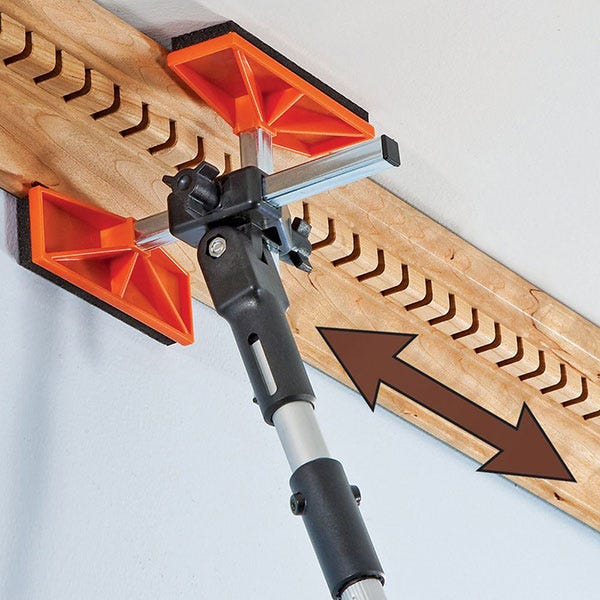 Working with the Rockler Crown Molding Support is like having a dependable helper to support the other end of long crown moldings during installation. Unlike similar products on the market, the Rockler Crown Support straddles the molding, leaving the installer free to slide the molding and adjust it for the tightest joint possible. This eliminates the need for climbing down the ladder and adjusting the molding support device.