Micro Jig MatchFit Dado Stop Pro Kit
Cut tight-fitting lap joints, dados and inlays without measuring, marking, or making test cuts.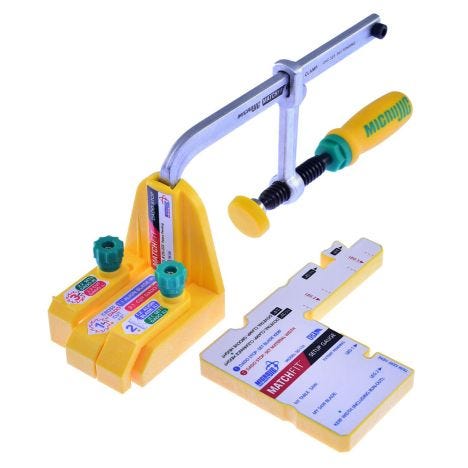 Micro Jig's MatchFit Dado Stop Pro system lets you cut perfectly fitting lap joints, inlays and dado cuts, all with an ordinary table saw blade—no dado stack required! Since it uses your actual stock to set the width of the dado, you'll get airtight joints without even needing to measure or make test cuts. The legs on the jig set the location of the shoulders, and the waste in the middle is then cleared with repeated passes over the blade. Alternatively, the Dado Stop may be used as a crosscut stop to keep pieces from binding when using the fence for repetitive crosscuts. The MatchFit Setup Gauge is included for consistently fast, easy setups.
Features:
Tight-fitting dados without the need to measure, mark or make test cuts
Uses your actual stock for setup, resulting in a perfect fit
Works with any standard table saw blade (stacked dado set is optional)
Dado Stop is exactly 3'' long—use as a stop for repetitive crosscuts
MatchFit Dovetail Clamp slides into any groove routed by a 1/2'' 14° dovetail bit
All-in-one Package includes everything you need for tight-fitting dados
(1) Matchfit Dado Stop
(1) Matchfit Dovetail Clamp
(1) Matchfit Setup Gauge
(1) Illustrated Instruction Booklet
More Information
Manufacturer Part Number
MF-1004
Weight
1.300000
Tech Spec

Dado Stop Length: 3''
Clamping Range: 0 to 5-1/4''
Clamp Pressure: 595 lbs open at 4''
Clamp Jaw Depth: 2-3/8''
Minimum Dovetail Slot Length: 3-3/4''
Dovetail Profile for Clamp: 1/2'' x 14°