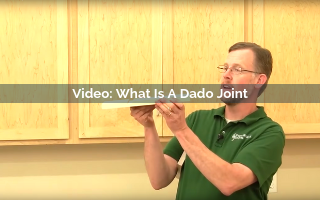 The dado joint is one of the strongest woodworking joints you can make. A dado joint is made from a three-sided channel cut across the grain of one work piece. A second, mating work piece fits into the slot. Dado joints are often used to build cabinets and bookshelves. Dado joints are easy to make using a table saw or router.
Skill Builder Video
Download
What Is A Dado Joint - Video Transcript
Speaker: Dado Joints are some of the strongest woodworking connections we can make, and they are also some of the easiest. They consist of a three-sided channel in one workpiece that runs across the grain of the wood into which another workpiece fits. They offer incredible sheer resistance because this workpiece is captured on three sides. You'll find dado Joints used often in case good projects like cabinets and bookcases where the shelves fit into the sides of the cabinet or bookcase and don't need to move, but you'll also find dado Joints used as drawer dividers, partitions, and a host of other applications. They're definitely a joint that every woodworker should know how to build.