Powermatic PM1000 1-3/4 HP Table saw, 1-Phase With 30" Accu-Fence System
The Powermatic PM1000 takes legendary performance and design principles from its larger predecessors, and packs them into a dynamic 115 volt machine.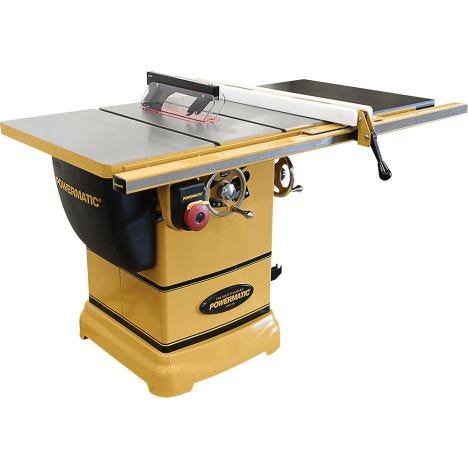 Additional Shipping and Handling Charge: $225
The Powermatic PM1000 takes legendary performance and design principles from its larger predecessors, and packs them into a dynamic 115 volt machine. That means that more woodworkers than ever before will be able to enjoy the capability and rugged performance of a Powermatic cabinet saw, without requiring expensive electrical upgrades. With only a few minutes of use, the careful design and engineering put into every part of this saw become clearly apparent. Heavy cast iron throughout cuts vibration and noise. The famed Accu-Fence slides smoothly and locks securely, while the heavy 7'' hand wheels turn with ease. The blade guard raises and tilts in unison with the blade, and the hands-free power button with safety key makes for easy starts and stops.
Features:
A rugged cabinet saw that only requires 115V power
Blade surround and collection hose provide an unobstructed path, maximizing dust collection
Conveniently located hands-free power switch
Tool-less guard assembly with independent side leaves is easy to use, maximizing safety
Blade guard raises, lowers and tilts in unison with the blade
Splitter and riving knives are mounted directly to blade mechanism, keeping gap between them and the blade consistent during height and angle adjustments
Sturdy miter gauge pivots 60 degrees to either side, allowing easy adjustment for a full range of cuts
Exclusive AccuFence provides rigidity and precision
The poly-V belt drive system reduces vibration and maximizes efficiency
Large, ergonomically designed 7'' handwheels provide momentum, making blade height and bevel adjustments easy
Arbor lock allows for one-handed blade changes with minimal tools
Cast iron work surface features a beveled edge
Bevel scale is conveniently located with large, easy-to-read numbers
Hinged motor cover provides quick access to the interior of the cabinet
(1) Powermatic PM1000 1-3/4HP Table saw, 1-Phase w/ 30'' Accu-Fence System (1791000K)
More Information
Brand
Powermatic
Weight
418.000000
Tech Spec

Blade Diameter: 10"
Arbor Diameter: 5/8"
Arbor Speed (RPM): 4200
Maximum Depth of Cut: 3-1/8"
Maximum Depth of Cut at 45 Degrees: 2-1/8"
Maximum Rip Left of Blade: 12"
Maximum Rip Right of Blade: 30"
Maximum Diameter of Dado: 8"
Maximum Width of Dado: 13/16"
Table Type: Cast Iron
Table Height from Floor: 34-1/4"
Table Size: 20" x 27"
Dust Collection Minimum CFM Required (CFM): 350
Dust Port Outside Diameter: 4"
Motor Power (HP): 1-3/4
Motor Phase: 1
Motor Voltage (V.): 115/230
Prewired Voltage (V.): 115
Motor Current (Amps): 15/7.5
Recommended Circuit Size (Amps.): 20

Arbor Size
5/8"
Dust Collection
4" Port
HP
1-3/4 HP
Maximum Depth of Cut
3-1/8''
Height
34-1/4''
Dimensions
20'' x 27''
This item will ship directly from the manufacturer.
Must be shipped within the 48 contiguous United States.
Please allow up to 7 business days for your shipment to be prepared.
Additional shipping charges may apply and will be noted below the price.
Items shipped by truck are delivered to the curbside only.
25% restocking fee on all returned merchandise.
Please call customer service before returning product.