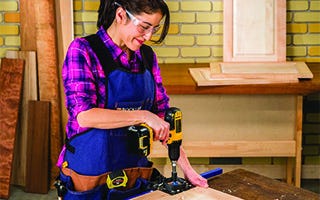 Many woodworkers associate a drill press with accurate drilling, and don't really think of a handheld drill as an "accurate" tool. Still, not everyone can afford or has room for a bench top drill press - let alone a full-scale floor standing model.
Luckily, there are a number of excellent drilling jigs and guides that can turn an average handheld drill into a perfectly reliable tool for precise work. And many are actually preferable to a drill press for certain tasks. To help you drill straight and true with your good old corded or cordless hand drill, here are a few of the most useful:
The Wolfcraft Portable Drill Guide is a lightweight drill helper that replicates the basic function of a drill press. Simply attach any handheld drill with a 3/8" chuck and you'll be ready for a variety of drilling operations, all performed with an accuracy that would be just about impossible with an unaided power drill.
The drill guide has many of the features you'd expect to find on a full-sized drill press - a depth stop, spring actuated spindle return and adjustments for angled drilling. The Drill Guide also has a specially designed base complete with a V-groove to support round stock, mounting holes for securing the Guide to a workbench or a specialized jig, and channel on the underside that makes for quick and easy centering for edge drilling operations.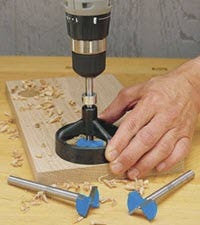 Rockler's own Jig IT Drill Guide offers another compact and affordable drill press-free drilling solution.  One of our all-time most popular jigs, the Jig IT Drill Guide is light, easy to set up and fits easily in an average-sized toolbox.
Designed for use with our Long Shank Carbide Forstner Bits, the Jig IT will let you drill perfectly straight holes almost anywhere your want. And with the superior cutting action the bits provide, you'll be able to do it quickly, cleanly and without using every ounce of your strength.
If you're a fan of European style hinges, there's even more reason to look at the Jig IT. Apart from being a handy all-around drilling tool, the Jig IT Drill Guide is an integral part of one of the most popular hinge cup drilling jigs on the market. Add the Concealed Hinge Jig IT System and you'll be all set not only for the odd general drilling task, but also will have the ability to install 35mm Euro-style hinges with speed and absolute accuracy.
Along with these general purpose hand drilling aids, there are a number of specialized jigs and guides designed to enhance the handheld drill's accuracy. For precise doweled joints, there's the classic self-centering doweling jig, which is available at Rockler in a standard and an especially versatile wide stock version.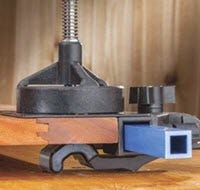 For pocket hole joinery, there's  the famous Kreg pocket hole master system collection. For the lauded mortise and tenon, there simply isn't a more affordable and effective solution than the Beadlock Loose Tenon Joinery System. And for accurate, speedy hardware installation, you'll find a number of other excellent specialized jigs in Rockler's Jig-It line.
There's no question that a drill press is a great piece of equipment to have around, but it's not the ideal tool for every drilling task. And for many home-shop woodworkers, an expensive drill press doesn't make it to top of the tool acquisition list for quite a while. Fortunately, a handheld drill, along with a few key drill jigs and guides can serve as a viable and reliable tool for a large percentage of the precision drilling operations that come up in woodworking.