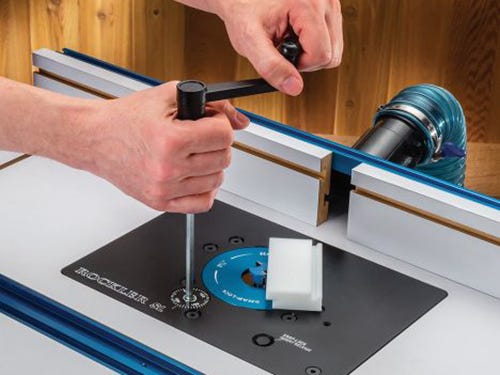 As you may have noticed, router lifts have been gaining in popularity over the past few years - to the point that now they're considered a near-necessity among frequent router table users.
If you're thinking of stepping up to the added convenience and accuracy one of these gadgets will bring to your work, we urge you to consider a few things on the advice of woodworking expert George Vondriska.
Why would you want a router lift in the first place? Vondriska points out, there are two things that a router lift can give you: easy, accurate bit height adjustment and easy bit changes – both doable from above the table. If you use your router table with any frequency, you know that fumbling around under the table to (often inaccurately) change the bit height, and awkward bit changes - which may involve pulling the router motor completely out of the base - can really add up in time and frustration. A well designed router lift, by contrast, will let you dial in precise bit height settings quickly, and it will also let you speedily crank the collet up above the surface of the table for fast bit changeovers.
Even if you're sold on the value of a router lift, deciding which one to buy is still a challenge. There are plenty to choose from, and most of them look pretty much alike. What should you look for in a router lift?  There are a number of factors worth considering, but here are a couple of the most important:
First, pay close attention to the list of routers that the lift will accept. This goes beyond just buying a lift that will fit your current router. Many lifts are designed to fit a certain class of router. Lifts designed for hefty 3-1/4 HP routers may or may not offer adapters for smaller 2-1/2 HP routers, but you'll never get a jumbo router into a lift that was meant for a router with a smaller diameter motor. If a router upgrade is in your future, think ahead and buy a lift that will accept the more powerful router you've been eyeing.
Second, be sure to buy a lift that will fit into your router table. Not all lift mounting plates are the same size, and neither are the dimensions of plate openings in router tables. Some lifts will make it easier to adapt the mounting plate to the router table by incorporating mechanisms that snug-up the lift-to-table fit. Better still, if you're in the market for a lift and a table, buy a router table package. It's likely that you'll save money, and you'll be assured of getting a table and lift that work well together.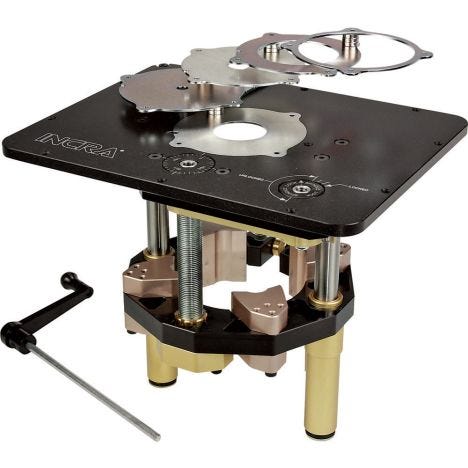 But what you really want to know, we'd bet, is which lift to choose. It's not a really a cut and dried choice. There are a few variables, and your specific needs and budget will, in part, dictate the best decision. Many experts single out the Incra Master Lift as one of the "best bets". It also offers a good selection of adapters for various brands and types of routers make it a good value, and a good choice for anyone who's still building a table routing tool collection.
For woodworkers looking for an affordable mid-sized router lift with solid performance and features, the Rockler Snap-Lock Router Lift rises to the top. It satisfies the basic requirements of a good router lift: a flat, low-friction plate and smooth lifting action for comfortable, aboveboard bit height adjustments. Add to that our much-loved Snap-Lock insert ring system, which lets you change rings with the push of a button. This means you can quickly raise the router to its highest point for easy, above-table bit changes, without having to search for tools or remove screws to get the insert ring out.
Two patent-pending features raise the Rockler Pro Lift into a class of its own: ultra-fast "Quick-Gear" height adjustments and "Snap-Lock" tool-free insert ring changes. Push the button to release the insert ring, then wind the Quick-Gear to raise the bit above the table in just seconds. Once the bit is installed, quickly lower it, click in the insert ring, and use the fine adjustment gear to set the final height to within 0.001". All this is achieved more quickly, more efficiently, and more intuitively with the Rockler Pro Lift. Raise your woodworking to a new level.