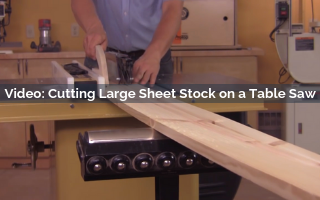 How to safely cut full pieces of sheet stock on a table saw. Cutting full sheets of plywood, MDF, OSB, melamine, or particle board can be tricky and even dangerous. If you plan to cut a full sheet of plywood on the table saw, it's best to get a second person to help support the plywood. If you are working alone, it is best to use a circular saw to cut the plywood into smaller pieces.
Cutting Large Sheet Stock on a Table Saw - Video Transcript
Female Speaker: Large, unwieldy, awkward. 4x8 pieces of sheet stock are some of the most awkward pieces that you can cut as a woodworker and especially if you're working in the shop alone. It's tricky.
Male Speaker: If you're working alone, really, the most effective and safest way to do it is with a handheld circular saw that you can break it down at least in two and then cut more accurately on the table saw.
Female Speaker: Right. Because this particular piece of 3/4 inch birch plywood, it weighs over 60 pounds.
Male Speaker: At least.
Female Speaker: We recommend that anytime you're working with sheet stock 4x8 pieces or larger, you have two people.
Male Speaker: You ready?
Female Speaker: Yes. The operator or cutter's job is to guide and feed the cut. Once it's on the table, you want to lift the piece vertically to power up the saw, then butt the sheet against the fence and keep it there. The partner's job is to walk along with the pace of the cut and keep the piece level so it won't bind. Now we've got a roll-off table to help us out even more. Same idea as the roller stand, it helps keep that piece level so it won't bind in the blade and that is safe sawing.