The new Rockler Edge Guide combined with the Portable Drill Guide lets you drill multiple holes the same distance from the edge—great for dog holes, shelf pin holes and Shaker pegs. The Portable Drill Guide is a great tool to have if you don't have space for a full-size drill press or if you need to drill angled or repetitive holes when your drill press is either inaccessible or won't work for the application. The addition of this Edge Guide makes it even more versatile.
Portable drill guides essentially turn a handheld drill/driver into a small drill press. The drill attaches to a shaft that is connected to a chuck, which is guided in a straight line on two rails.

The Edge Guide sets the distance from the edge of your work, ensuring consistent hole location for projects like drilling a row of bench dog holes or pegs for a coat rack. The included 1/4''-dia. x 12'' aluminum guide bars (left photo) allow drilling 1-3/4'' to 8'' from edge. If more distance is needed from the edge, you can substitute 1/4"-dia. wood dowels for the guide bars (right photo).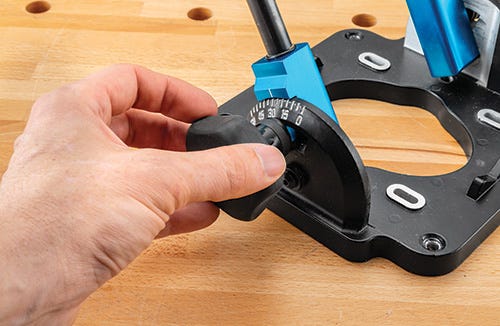 The Guide's overmolded handle and knob are comfortable to grip.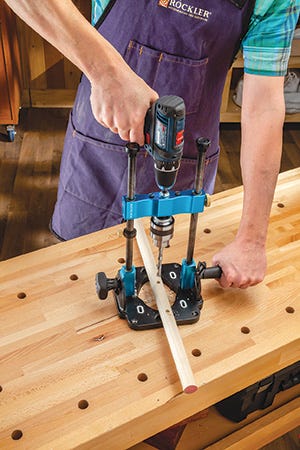 V-notches in the base can hold round workpieces, such as dowels, for drilling centered holes.
Self-centering Drill Vise
You you can add even more control and precision by pairing the Portable Drill Guide with the Rockler Self-Centering Drill Vise. Its 3" x 3" capacity is ideal for small tasks, such as drilling mandrel holes in pen blanks, but the Vise is big enough to secure larger pieces, too. A rubber knob on the end opens and closes the aluminum jaws simultaneously.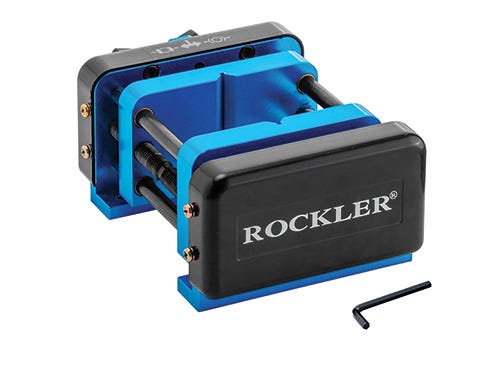 Rockler's Self-centering Drill Vise can be used independently or mounted in the Drilling Guide's base to create an integrated precision drilling system.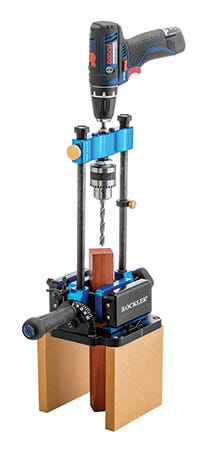 Purchase the Drilling Guide individually or as a set.
Use the Vise independently, or install it on the Portable Drill Guide with pre-drilled holes to create a souped-up drilling station. I think these two tools are impressive on their own but work even better as a team.