The first words that came to mind when I got my hands on the new Portable Drill Guide were "substantial" and "smooth." From the center bearings that spin the chuck shaft to the depth adjustment rails to the angle adjustment scale, everything on this Guide is beefed up and operates smoothly.
Portable drill guides essentially turn a handheld drill/driver into a small drill press. The drill attaches to a shaft that is connected to a chuck, which is guided in a straight line on two rails.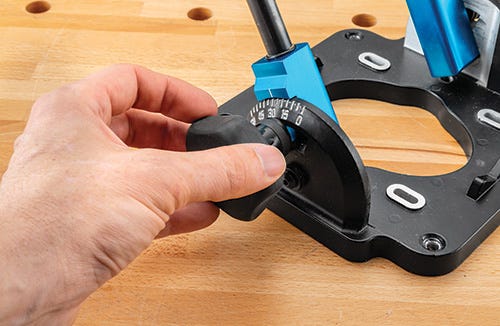 The Guide's overmolded handle and knob are comfortable to grip.
The angle of the guide can be changed in relation to the workpiece, and most also feature a depth stop. They adjust the drilling angle from 0 to 60 degrees. White markings make the protractor scale easier to read.
It's a great tool to have if you don't have space for a full-size drill press or if you need to drill angled or repetitive holes when your drill press is either inaccessible or won't work for the application. The problem with most drill guides, however, is they tend to be a little flimsy and not very precise.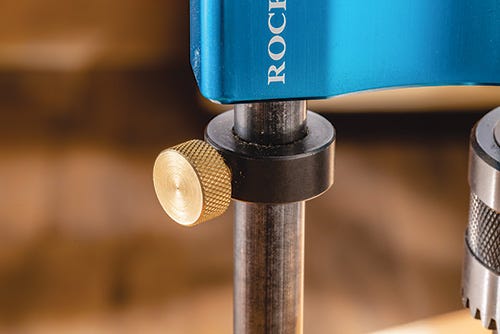 An integral depth stop with knurled brass knob sets the drilling depth for repeatable drilling.
Rockler's Portable Drill Guide has all of the features of other options, with the added advantage that it's also built like a tank. A large 1/2"-capacity Jacobs chuck glides on smooth ball bearings. Twirling it with your fingers feels like you're playing with a fidget spinner.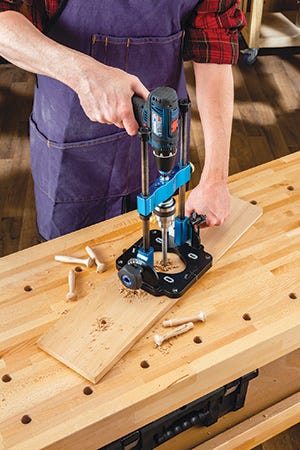 The Guide offers 9-5/16" of capacity from the end of the chuck to the bottom of the base.
Its drilling angle adjusts easily from 0 to 60 degrees, which is more than the typical range of 0 to 45 degrees.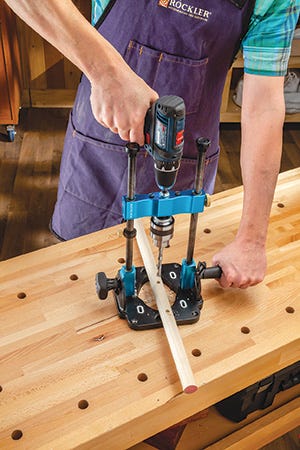 V-notches in the base can hold round workpieces, such as dowels, for drilling centered holes.
The Guide's anodized aluminum and steel construction ensures durability. Large handle and adjustment knobs have soft overmolds that are comfortable to grip.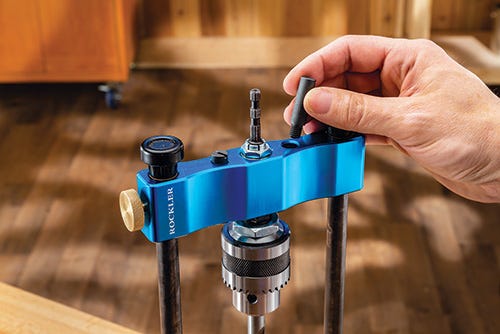 A set of steel pins store in the top of the Guide.
Mounting holes in the base can be used to attach other shop-made jigs. Or install a set of pins that come standard so you can straddle the Portable Drill Guide over the edge of a workpiece to drill centered holes and mortises.
Install the pins under its base to straddle and center the bit over the edge of a workpiece.
All of this adds up to a cool, precise drilling accessory that I think a lot of woodworkers will want in their shop, whether they already own a drill press or not.
Self-centering Drill Vise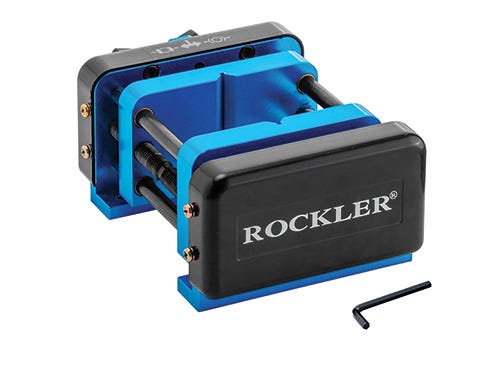 Rockler's Self-centering Drill Vise can be used independently or mounted in the Drilling Guide's base to create an integrated precision drilling system.
You can take the Portable Drill Guide to the next level by pairing it with the new Rockler Self-Centering Drill Vise. Its 3" x 3" capacity is ideal for small tasks, such as drilling mandrel holes in pen blanks, but the Vise is big enough to secure larger pieces, too. A rubber knob on the end opens and closes the aluminum jaws simultaneously.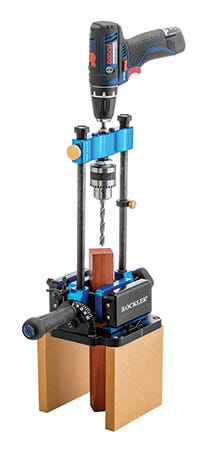 Purchase the Drilling Guide individually or as a set.
Use the Vise independently, or install it on the Portable Drill Guide with pre-drilled holes to create a souped-up drilling station. I think these two tools are impressive on their own but work even better as a team.