When I put my personal feelings aside and look more objectively at the rambling agglomeration of sheds and shacks that house all aspects of my woodworking pursuits — tools, benches, lumber, supplies — it looks less like a shop than it does a housing project for wayward trolls.
What makes it a shop is that every aspect of that old building has been reworked, remodeled, and laid out to suit my own individual way of working with wood.
In my way of thinking, the only thing that distinguishes any old structure from a woodworking shop is that the latter provides a space to work in and is otherwise filled with tools and machines. Just about any building can serve as an adequate woodworking studio.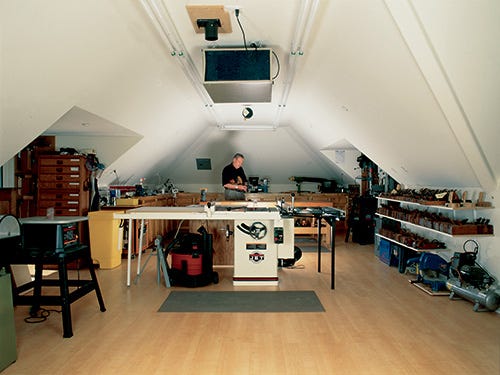 Woodworkers all search for and establish a place to call their own workshop. But that space isn't always a matter of choice. If the basement or the garage is the only viable alternative to plopping a table saw in the living room, then that is where you're likely to end up making wood chips. Of course, it's a lot tougher when your first choice for shop space is a room that must serve double duty as part-time laundry room or home for the family ping-pong table.
Sometimes it's hard to imagine converting a shed or an available building into a viable shop space. Many woodworkers have done excellent work inside of structures that once served as a roosting space for a barnyard full of chickens. But if you have an old chicken coop or barn on your property that you're thinking of turning into a woodshop, it's best to weigh all the pluses and minuses before spending time and money on the conversion.
Advantages of a Home Woodshop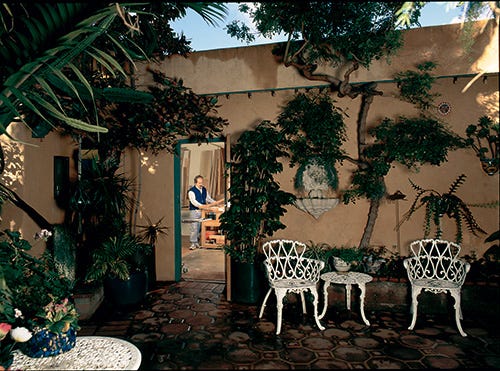 By far, the majority of woodworkers I have known, both professional and amateur, have their woodworking shops at home. The convenience of strolling out the back door and into the shop to cut a few tenons or glue up a cabinet subassembly anytime you want to can be a real pleasure. You save a lot time that you would have otherwise spent driving, riding, or walking if your shop is across town.
Whether you rent or own your home, chances are the cost of having a shop is included in the cost of paying for your home — a big savings over paying separate shop rent. And you don't pay a separate bill for basic utilities (gas, electric, water) so the overall cost of running the shop is also less.
You will be able to use your home's facilities (restroom, kitchen) and perhaps use the study or home office to draft working drawings for shop projects and take care of shop-related correspondence. You'll also probably sleep more soundly at night with your expensive tools locked up within earshot, rather than in some industrial space patrolled only by late-night alley cats.
But before you get swept up in the seductive convenience of having a workshop at home, be sure to consider the downsides. Power tools make lots of noise that can quickly put you in the family doghouse or push your neighbors past their tolerance, especially if you run a router or table saw at night or during a Monday night football game. ("Hey, Alice, that guy next door must be running his electric wood whacker again. The Packers look all snowy, but they're playing in Arizona.")
Then there's the dust and debris that typically end up all over the floors, carpets, and, if you come indoors for a quick siesta while the first coat of lacquer dries all over the upholstery as well. If a home shop is where you earn your bread and butter or if you're a workaholic, you might find it hard to get away from woodworking, such as when you end up in the shop at 4 a.m. sanding face frames because you can't sleep (it's happened to me).
If you decide home is where you want your shop to be, the next step is figuring out where. There is an chart in my book Setting Up Shop that could be of use as you try decide where to locate your workshop.
Setting Up a Shop Inside a House
Some might say that only an act of desperation would cause anyone to consider doing something as noisy, messy, and space-consuming as woodworking inside a nice, clean house. And there is no denying that the problems involved with having a shop in your home can be daunting. But an in-house workshop might be your only recourse, short of renting workshop space nearby. Depending on the design of your home — and the scale of the projects you wish to build, basements, attics, porches, and even walk-in closets may be worthy of consideration.
Attics: Unless you're lucky enough to have a large attic space that's not directly above your living space, the average home attic is usually a poor choice for a shop. Even attics with a fairly large floor space have limited headroom due to the slope of the roof. Access to an attic is typically up a narrow stairway, making transport of tools and materials difficult.
Attic floors are often inadequate to bear the weight of heavy woodworking machines, and the noise transmitted through floor vibration is likely to deluge the entire house. Because heat rises and attics typically lack adequate ventilation, an attic shop is often too warm, even during periods of temperate weather.
All that said, if the attic is your only option, you'll need to exercise some creativity to turn it into a workable shop. Understand that your choice of tools will be probably be limited to hand tools or smaller models of machines. Fortunately, benchtop models of most woodworking machines are readily available, and depending on the kind of work you do, can be an acceptable solution.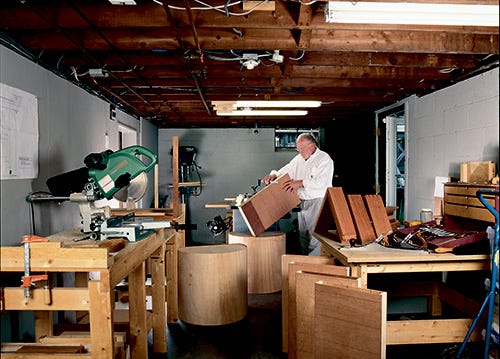 Basements: If your house has a basement that isn't filled with clutter or doesn't fill up with water during the rainy season, it may be your best bet for an in-home shop space. Like an attic, a basement often presents access challenges. A basement shop needs wide stairs or a large door opening to the outside so that machinery and lumber can be brought into the shop and finished projects can be carted out. Depending on the layout of the building, the floor may be supported by large posts or foundation members strategically placed in the basement. These structures can encumber free space and make handling long or large stock difficult.
If your home's central heating furnace is in the basement, you'll have to prevent sawdust from accumulating so as not to create a fire hazard. You'll also have to make sure that the system doesn't blow fine dust into every room of the house.
One advantage of a basement is built-in temperature control. It's typically cool even on the blistering days of summer, and since the house stands above, it's comfortably warm even in the winter.
A subterranean location can be an invitation to water seepage. Moisture coming through concrete brick wall or, in some areas, outright flooding can endanger expensive tools and machines. In most cases the water threat can be controlled by treating the walls with moisture proofing or by installing sump pumps. Humidity problems can be cured with a dehumidifier.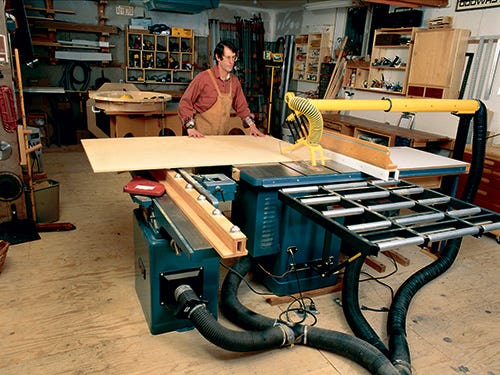 Headroom: Inadequate headroom is another bugaboo for basement shops. Wrestling large work in a low space can be absolutely maddening. Try assembling a tall bookcase or a hutch in a space with low ceilings.
If your basement lacks adequate headroom, you may be able to improve things in the course of a major house renovation. When woodworker/author Jim Tolpin remodeled his two-bedroom home, for instance, he raised it up two feet, building up a stub wall on top of its existing foundation.
Doing this increased the height of his basement shop to 10 feet, just enough to allow him to flip a long board or sheet of plywood end for end. The ground drops away toward the rear of his home so that the rear wall of the shop is above ground, providing easy access to the shop through a large, garage-type door.
Setting Up a Shop Attached to a House
For convenience, the next best thing to having a shop inside your house is having it just a few steps away. Getting the shop out of your immediate living quarters has real advantages. For starters, sawdust, finishing vapors and some noise stay out of the main part of the house. And, hopefully, lumber and machinery are easier to get in and out of a garage or enclosed porch than your home.
Garages
If an alien race were to study the average home woodworker's lifestyle, I'm sure they'd conclude that garages were designed to house tools, machines and workbenches, while the family automobile was meant to live in the driveway. Thank goodness modern cars have paint jobs that can withstand the rigors of outdoor life.
While many garages become places of woodworking out of default — there being nowhere else to set up a shop — the average two-car garage can still provide a woodworker with all the comforts of a proper workshop. As far as amenities are concerned, the average garage has a level floor, typically a concrete slab, is weatherproof, and has at least rudimentary power and lighting. In many smaller homes, the garage doubles as a laundry room, so it's likely to have 220V electricity and even a sink and running water. In at least one early 1950s housing development I visited, a home's garage came complete with a "handyman" bench and storage cabinets built against one wall.
Containing Noise and Dust
Machine noise can even be a problem inside your home. A shared wall between the garage and house easily transmits vibration that can be nerve-wracking — especially if you like to work late in the evening or when housemates are trying to concentrate or relax. This can seriously restrict the hours of power tool operation in your shop.
Wood dust and chips can also become a problem for home garage shops: Fine dust wafts into the house through open windows and doors and sawdust gets tracked in on the soles of unwiped shoes. If your home's water heater or central heating unit is inside your garage, watch for dust accumulation on or near the unit and its ductwork to avoid a possible fire hazard.