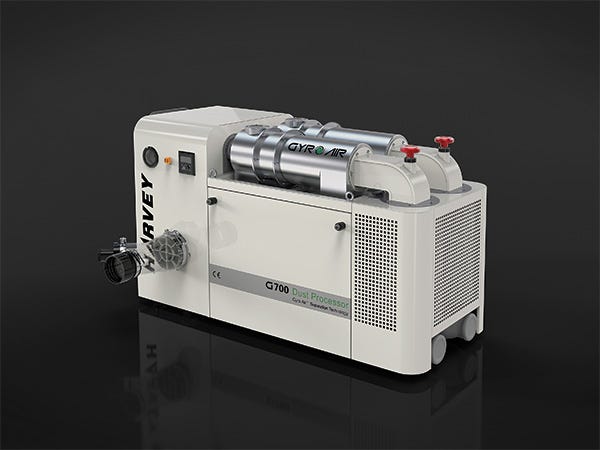 The GYRO Air G700 offers quiet, efficient dust collection. Next-generation dust collection that beats European standards and has an energy-saving motor and control design.
While dust collection isn't woodworking's most riveting topic, few of us will argue against its importance for both a clean shop and long-term respiratory health. Trouble is, most conventional dust collectors are louder than we'd like them to be, and their efficiency at capturing the really fine, harmful dust is dubious.
Harvey Industries intends to take dust collection a quantum leap forward with the GYRO Air G700 Dust Processor. (They've even included windows atop their turbines.)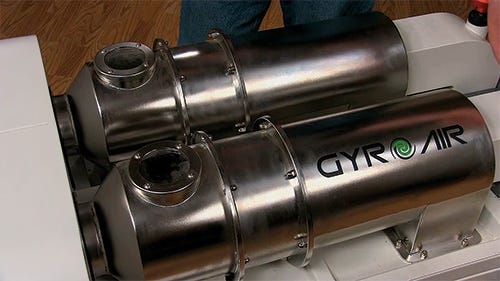 These two stainless steel chambers contain a series of aerodynamic cones that both slow the incoming air down to catch coarse debris and then spin it quickly for finer filtration.
Its silver, twin cylinders on top are where most of the machine's high-efficiency separation happens. When dirty air enters the G700's 6" inlet, it passes through two levels of separation. First, an internal double cone slows down the air so that heavier debris and dust can drop down into a preliminary separation container. Then, the finer dust particle stream that remains is pushed through a turbine-shaped cone with aerodynamic vanes. This fixed turbine increases the air speed to over 4,000 rpm to separate 99.9 percent of the remaining dust particles, Harvey reports. It's a process they call "axial centrifugation." That finer debris drops into a secondary container. Any molecule-sized dust that's left enters two pleated filters on the right end of the machine that trap it. Inside each filter, a brush can be manually agitated with the red knobs on top for quick filter cleaning. That dust falls into two capped cleanout pipes on the bottom right end.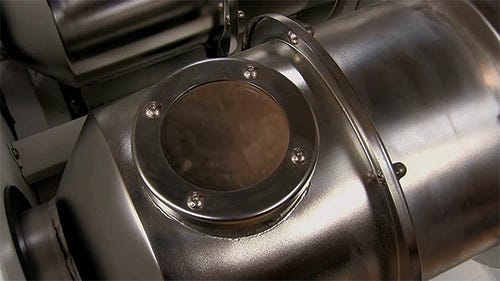 Where some dust collectors promise to trap particles down to around .5-micron, the GYRO G700 beats the European standard in testing by 50 percent, with an air emission cleanliness level of .05 mg/cubic meter. In other words, once dust enters the machine, Harvey Industries' goal is that none at all will escape.
GYRO operates at a noise rating of 61 to 72dbA — about conversation level. The company credits its quieter operation to locating the 12" cast-aluminum impeller inside a cabinet and to the efficient airflow offered by the turbine design. Other conventional dust collectors generate more air noise because their impeller housings are more exposed, and they smash dust into the walls of the filters and collection bags rather than channeling it more smoothly.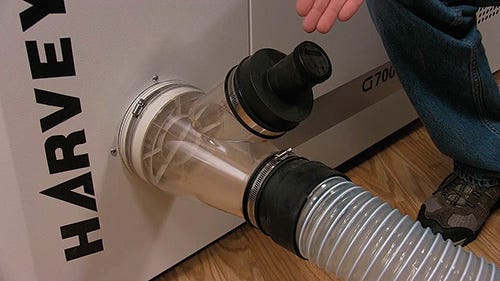 A clear Y fitting attaches to GYRO's 6" inlet. You can attach a 4" hose plus a 2" hose, using the included reducer adapter, or two 4" hoses by removing the adapter.
A 2hp (three-phase) induction motor powers the system; it's controlled by a Siemens inverter that switches incoming 220-volt single-phase power into three-phase. This improves electrical efficiency over a standard single-phase motor, and it enables the G700 to have variable-speed control. You can dial the suction up or down to suit the demand at hand. While the machine develops an unrestricted airflow of 1,110 cubic feet per minute (CFM), its maximum airflow through a 4" hose is about 700 CFM. An included clear Y adapter enables both a 4" and 2" hose to be connected to two tools simultaneously.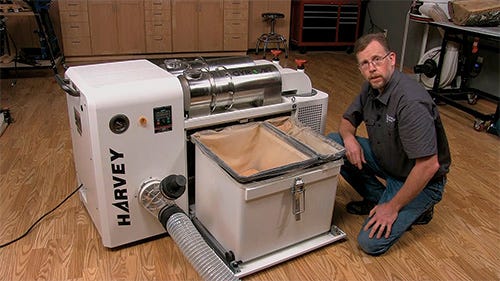 GYRO's 32-gallon capacity dust bin is easy to empty: open the front cabinet door, unlock the bin's seal, and roll it out. Debris collects in plastic bags for easy removal.
Once the machine fills up, it turns off automatically and a buzzer sounds. Then, cleaning the divided bin is easy: just open the front cabinet door, flip a lever and roll it out on wheels; the container holds 32 gallons of debris in removable plastic bags.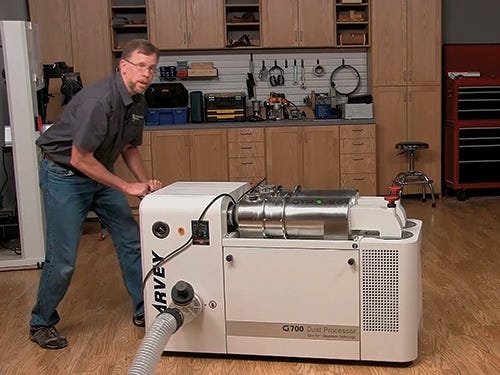 Four heavy-duty casters and a handle on one end enable the G700 to be rolled wherever it's needed most.
GYRO's horizontal design is meant to be compact: it measures 56-1/4" long, 23-1/2" deep and 33-7/8" tall. A top handle on one end and heavy-duty casters make it easier to roll around, despite the fact that the machine weighs 445 pounds, empty.