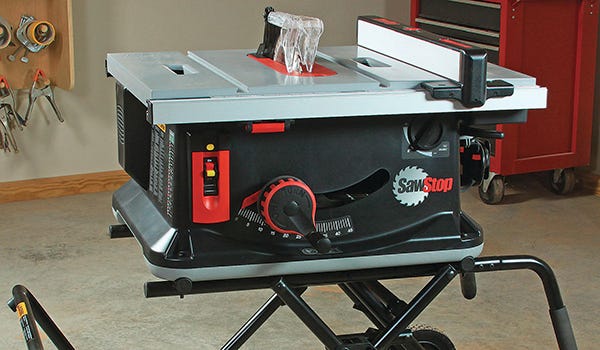 Now, the company's blade brake technology can protect end users wherever they need to cut wood — in the workshop, on the jobsite or out in the yard.
The SawStop 10" Model JSS Jobsite Saw, features injury-preventing blade brake technology for jobsites. That's because the saw comes with the same skin-sensing technology as its larger saws, which stops the blade in milliseconds, preventing mishaps from becoming tragedies. In the event of a body part coming in contact with the spinning saw blade, an internal computer engages a brake that embeds in the blade and stops it, while lowering the blade below the table.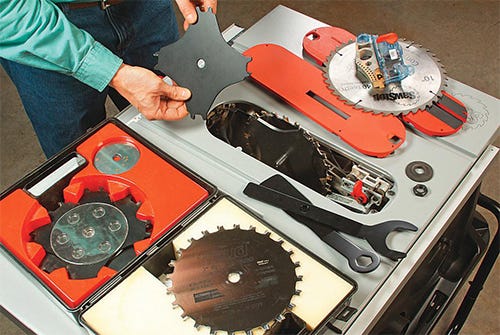 Despite being lightweight and jobsite portable, the JSS is nevertheless rugged enough to handle an 8" stacked dado blade. It can make dado or groove cuts up to 13/16" wide.
This saw uses the same standard blade cartridge as other SawStop models. The brake cartridge can be installed or removed easily through the throatplate opening. And, this new JSS will accept an 8" dado blade for cutting dadoes up to 13/16" wide. SawStop's dado brake cartridge (sold separately) is required for dadoing. A zero-clearance insert is also available for that purpose.
Jobsite users often cut wet framing lumber or pressure-treated material. In those situations, the operator can effectively "ask" the saw's computer whether a material is too conductive, which could unnecessarily activate the blade brake. Lights on the saw's oversize kill switch in front indicate whether the saw should be set to bypass mode using a key, for making wet-material cuts, or if it can be switched back to the safety mode with the brake system engaged.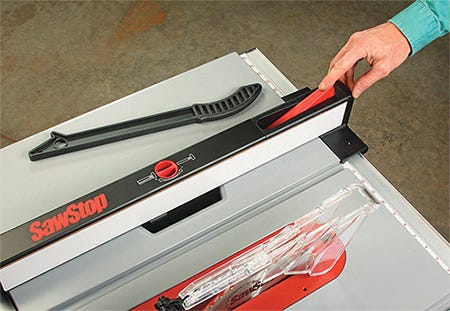 Instead of a front-mounted fence handle, an "ErgoLock" top-mounted rocker switch locks or unlocks the rip fence with a single fnger push. The feature ensures ease of use and setting accuracy.
The saw's T-square style rip fence is also unique: an ErgoLock feature along its top edge provides a rocker paddle switch, rather than a front handle, so you can lock or unlock the fence with a finger push. It helps prevent the fence from "jumping" out of position when the lock is released — a common problem with other rip fences on portable saws that can throw off their accuracy.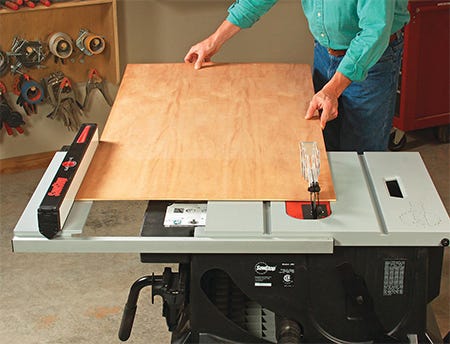 Sliding fence rails extend the saw's tabletop and fence, which enable it to rip sheet goods or other materials up to 25-1/2" wide. A ledge (not shown) also can be projected out from the fence to support thin materials.
The saw has an amply sized, power-coated aluminum tabletop that measures 31-1/4" wide by 22-5/8" deep. You can increase its ripping capacity up to 25-1/2" by extending the saw's fence rails to the right of the table. They release with a lever lock in front. A ledge can also be projected out from wide or thin materials, such as laminate or 1/4" ply.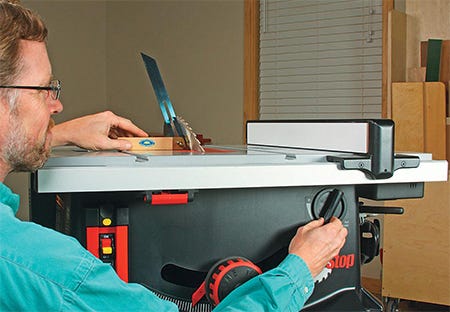 Unique to the jobsite table saw category, this new saw has a "MicroTilt" dial in front that enables its blade tilt to be tweaked in single-degree increments for added precision.
Dialing in blade settings is easier here, too. Unlike all other table saws, jobsite and otherwise, this saw enables you to raise or lower the blade throughout its full range of travel (up to 3-1/8" of cutting height at 0˚) in just a single revolution of the hand wheel. Tilting the blade left off of 0˚ involves squeezing a back plate behind the blade tilt wheel. Then, you swing the handwheel (and the saw's arbor assembly) along its protractor scale to adjust to the blade angle you want. A separate "MicroTilt" control in front enables single degree tilt adjustments. It's a very handy detail.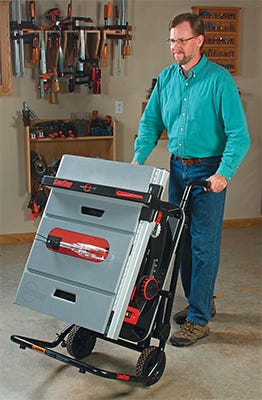 A tubular, folding workstand and dolly-style portability make the saw simple to collapse for storage or to roll and set up wherever the jobsite needs to be. In "dolly" mode, it's well-balanced and easy to move.
During cutting, the saw's 1.5hp, 15-amp universal motor develops a peak output of just over 3 horsepower, and I found it up to task for both dadoing and general cutting.
A scissors-style tubular stand with treaded lawnmower-type wheels makes the 79-lb. saw (108 lbs. with the cart) easy to roll around, dolly-style. It sets up quickly to a 36" working height and folds down for transport or storage by tapping a release lever with your foot.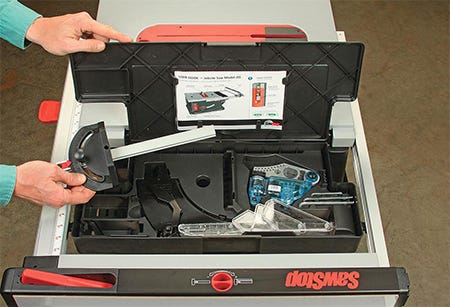 A drawer below the tabletop (and accessible when the right wing is extended) provides beneficial storage for the miter gauge, riving knife or blade guard, spare blade brake and owner's manual.
Another helpful user convenience is an onboard storage drawer tucked under the movable tabletop wing. It stores the miter gauge, riving knife, guard and even a spare brake cartridge.