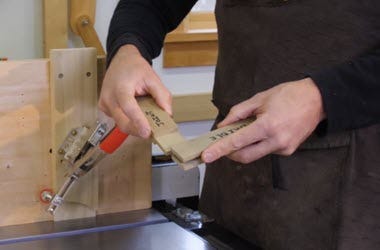 A bridle joint is a very strong joint that has a lot of long grain to long grain glue surface and is a great option when working with smaller sized components, such as a jewelry box lid or a small cabinet door where a regular mortise and tenon might have too small a shoulder area.
How to Cut Bridle Joints on the Table Saw with Tim Rousseau
In this video, Tim Rousseau, an instructor at the Center for Furniture Craftsmanship, demonstrates how to cut a bridle joint. A bridle joint can be cut many ways, each has their pros and cons, but one of the simplest methods is to use a dado stack on a table saw.
A typical bridle joint is laid out in thirds, where the "tenons" and "mortise" are the same size; a third of the width of the component. With the table saw off, set the height of the table saw blades to just proud of the component.
In a bridle joint, unlike a mortise and tenon, it can be easier to cut the slotted component first. Using a tenoning jig, take two passes through the saw to make sure the cut is centered. Make sure the floor of the slot is smooth and square; if not off the table saw, use a chisel.
When cutting the "tenon" component, if its first scored with a marking gauge, you would get a cleaner cut. The tenoning jig and height of the dado stack will remain the same, but an extra dado chipper will need to be added. Use the "mortise" piece to lay out the cuts for "tenon" piece and set the fence on the conservative side to be able to micro adjust to the right setting.
Check out the video above for a step-by-step walk through of how we cut a bridle joint on the table saw at the Center for Furniture Craftsmanship.
Related Product Categories