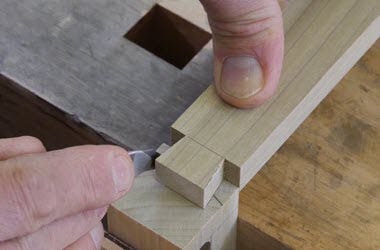 A drop-in dovetail is a joint that is often at the top of a table when there is drawer at the front, connecting the legs. The reason for using a dovetail versus a tenon, is to provide a stronger mechanically locking joint where there is little space due to the other joints cut into thin stock such as legs.
How to Cut Drop-in Dovetails with Tim Rousseau
In this video, Tim Rousseau, an instructor at the Center for Furniture Craftsmanship, demonstrates how to do a drop-in dovetail. Since this joint is often used as the top of a drawer in a table, all of the other joint components need to be laid out and taken into account. Most of the drop-in dovetail will not be visible, but you'll want the length of the tail to be exact, so the front shoulder has no gaps.
When there are multiple joints in stock such as legs, make sure they are not going to interfere with each other. Set a cutting gauge so it is less than the distance over to the mortise to scribe the shoulder on the tail component. Make sure the neck parts of the leg are not less than 3/16" to prevent the necks from cracking off.
A well-tuned bandsaw makes quick, accurate tails. This video shows how to make and use a jig to cut the tails on a bandsaw. After they are cut roughly on the band saw, chisel to the shoulder lines.
Transfer the tails onto the leg stock and score the lines with a knife. Since a drop-in dovetail is a type of half-blind dovetail, there is so much material that can be cut with a hand saw. Tim demonstrates a great tip for severing the rest of the remaining fibers. After this smart step, clean out with a chisel until the joint fits!
Check out the video above for a step by step walk through of how we cut a drop-in dovetail at the Center for Furniture Craftsmanship.
Related Product Categories