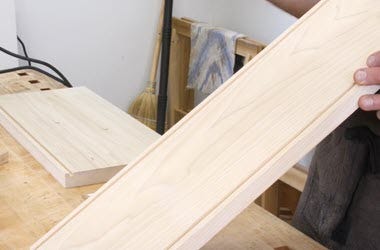 Grooves are used primarily for inserting panels, such as with a frame and panel. A groove is a "groove" that runs with the wood versus a dado is a groove that goes across the grain, and a rabbet is on the edge running with the grain. This video explains the various forms of grooves, as well as the different methods and tools to create the right groove for the application.
How to Machine Grooves with Tim Rousseau
In this video, Tim Rousseau, an instructor at the Center for Furniture Craftsmanship, demonstrates how to run grooves in a variety of different manners. There are several different ways to run a groove, and several different kinds of grooves; through grooves versus stop grooves that does not go all the way through the surface.
For through grooves, one of the most efficient tools to use is a table saw, either with a single blade or a dado stack. When using a single blade, in a narrow or center groove, it looks cleaner to use a flat-top blade. It can be easier to use the dado stack on non-centered grooves. Always use test stock set the blade and fence and ALWAYS use a push stick (and feather board for extra safety) to run the stock through the table saw.
The router table is an invaluable tool way to make grooves but is especially the safest way to make a stop grooves. Grooves can be made on the router table with either a bit cutting up from the table into the component or a wing cutter but cutting in at the side of the component. Using a wing cutter and bearings is an amazing way to cut curved grooves. It is important to make sure the teeth of the bit are facing the direction of the cut. For a safer and cleaner straight groove with a wing cutter, it is smart the make a zero-clearance fence shown in this video.
Check out the video above for a step by step walk through of how we machine grooves at the Center for Furniture Craftsmanship.
Related Product Categories