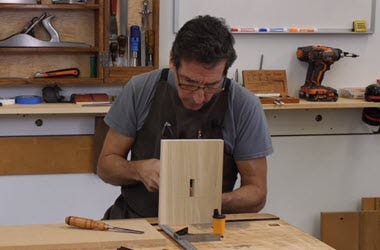 A through mortise is a mortise that goes through one face of the board to the other side. It can be considerably stronger than a mortise that does not go through the board. There are a lot of variations of mortise and tenon joints but, when you're looking for elegance and strength, a wedged through mortise is excellent.
How to Cut Through Mortises with Tim Rousseau
In this video, Tim Rousseau, an instructor at the Center for Furniture Craftsmanship, demonstrates various methods of cutting through mortises, conditional to the application and tools at hand. Besides its brawn and visual simplicity as a joint, through mortises can also add decorative elements.
We find mortises in two different formats: a mortise through smaller stock like a leg type component, or a mortise in a wider face like a case side. Different tools and techniques can be used based on the size of the mortise surface.
As with all fine woodworking, making a mortise starts with a precise layout. Based on the project, the mortise can have a wedged tenon or not, which could be cut straight or flared; mortises can be cut by hand, machine or frequently a combination. Again, it often makes sense to design the mortise size based on chisel width, and then use the chisel to set the mortise gauge.
When laying out and cutting by hand, position and secure the piece, but also positioning yourself will help with accuracy. To rough out the waste with a machine you can also use a drill press or a mortising machine. Another tip is to clean close to the gauge line, then chisel to it.
Also, in this video is how to make a router-made mortise, using rub collar, rub collar template, and a horizontal mortiser, both giving a choice to leave round, for a rounded tenon or square up the mortise.
Check out the video above for a step by step walk through of a variety of ways we cut a through mortise at the Center for Furniture Craftsmanship.
Related Product Categories