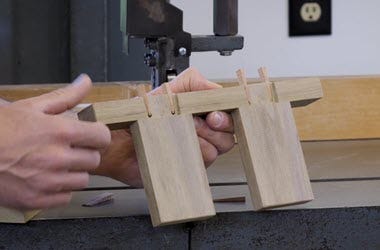 When making mortise and tenon joinery that go through the stock with kerf and wedges, there are a couple of options. Both are sturdy joints due to the through tenon and the wedges. And once you've cut the mortise and tenon, creating the kerfs and wedges are a very simple!
How to Make Kerfs and Wedges for Through Tenons with Tim Rousseau
In this video, Tim Rousseau, an instructor at the Center for Furniture Craftsmanship, demonstrates how to cut kerfs and make wedges for through mortise and tenon joinery. Through mortise and tenon joints are strong on their own, but adding wedges in the tenon, makes them even stronger and adds a decorative element. A flared wedged tenon becomes mechanically the strongest by flaring out into a dovetail shape, locking the tenon in the mortise.
Cutting kerfs and wedges on the bandsaw is ridiculously easy. The kerf is a perfect size right off the bandsaw blade, versus a >a href="/hand-tools/hand-saws">hand saw would leave too narrow of a cut. The position of the kerf is important, if they are too close to the center, there would be too much material to have an effect on flaring it over, and too close to edge would leave it prone to cracking. Simply draw the lines of the kerf and set the fence to it. They will all be the same, so this is a piece of cake.
The wedge is a triangular piece that is going to fit in the kerf, and the grain needs to run through the length of the wedge, so it doesn't split. Aesthetically, it makes sense to choose contrasting woods. Continuing with the bandsaw, cut wedge blanks to size then use the straightforward jig explained in the video to cut the blank into perfect wedges.
Check out the video above for a step by step walk through of how we make kerfs and wedges for through tenons at the Center for Furniture Craftsmanship.
Related Product Categories