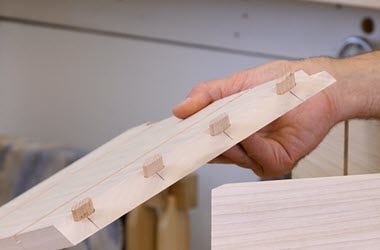 A carcase miter is a miter that is cut on a case piece that allows the grain to wrap around the case. A domino is an inserted tenon that is cut with a domino machine made by Festool. Dominos come in a range of sizes and are an incredibly quick way to strengthen many different joints in furniture making.
How to Join Carcase Miters with a Domino with Tim Rousseau
In this video, Tim Rousseau, an instructor at the Center for Furniture Craftsmanship, demonstrates how to add dominos to a carcase miter to strengthen it. A domino machine looks a lot like a biscuit or plate joiner but is different in the fact it has a cutter that spins and oscillates left to right at the same time. There are multiple sizes of cutter that make different sized mortises to correspond with the various sizes of dominos, or inserted tenons.
It is important to first consider the depth of the surface when inserting a domino into a carcase miter, as the domino is being inserted perpendicularly to the cut face. Make sure to measure well and choose a size of domino that will not poke through the cut face surface. Also take into account the placement of the domino mortises, best to be a minimum 1/8" from top and bottom edges, and then transfer the indexing lines to all components.
Other settings to consider and double check before running on final pieces are the protrusion of the cutter/plunge depth, the fence angle and the adjustment for height of cut on the mitered face. Two great tips for a smoother final assembly; after the first mortises are cut 1:1, the following mortises can be set to have more wiggle room, and if the dominos fit too tightly, lightly shave them on a hand plane.
Check out the video above for a step-by-step walk through of how we join carcase miters with a Domino at the Center for Furniture Craftsmanship.
Related Product Categories