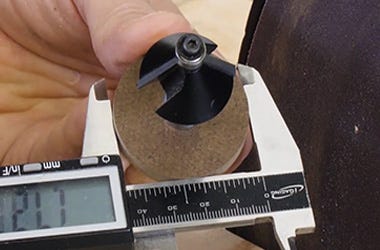 A rub collar or template guide is a bushing that attaches to the base plate of a router to ride against a template to cut out patterns. There are kits of guide bushings with standard sizes, but sometimes there is a need for an odd sized template guide to route a gap that is not a standard size. This video instructs you on how to make your own rub collar template guide using basic tools.
How to Make Custom Rub Collars with Tim Rousseau
In this video, Tim Rousseau, an instructor at the Center for Furniture Craftsmanship, demonstrates how to make a custom rub collar. This can be made easily by making a rub collar out of MDF or plywood to press on to an existing guide bushing.
Begin by figuring out the size of the gap that will need to be routed; this is usually done with a drawing that has the size of the cutter and the bushing. Set the dimension of the collar on a compass and draw the circle. The pinpoint of the compass can then be used as the center mark for the 1/2" drill bit to drill a center hole. At the bandsaw, bandsaw the circle out conservatively so the pencil line is still visible.
The hole in the disc is 1/2" so it can be used with a 1/2" guide bushing, but also so that any router bit with a 1/2" shank can be used as a pivot to sand the disc to true round and the correct dimension with a disc sander. To sand the disc true, make a jig by drilling a snug 1/2" hole into a piece of plywood that can be clamped and adjusted as the disc is being sanded to size.
Check out the video above for a step-by-step walk through of how we make custom rub collars at the Center for Furniture Craftsmanship.
Related Product Categories