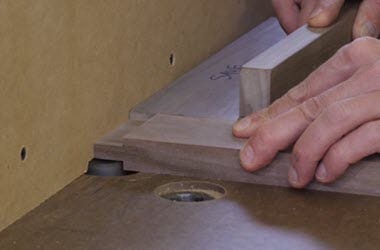 Of all the methods to cut tenons, using a router table gives one of the cleanest shoulders, and allows for the cheek and shoulder to be cut at the same time. Using a wide diameter mortising bit in the router table is a simple and efficient method of cutting straight joinery.
How to Make Tenons on a Router Table with Tim Rousseau
In this video, Tim Rousseau, an instructor at the Center for Furniture Craftsmanship, demonstrates how to cut a tenons using a large diameter bit on the router table. The method at the router table in this video is a tenon centering method, meaning cut equally from both sides, but it is possible to make an off center tenon with a few more steps.
The first step in the process is already having made the mortise that will now be fit to. While setting up always have tools unplugged and make sure you have a smooth surface to work on. This method involves a large diameter mortising bit, and it is best to have a zero-clearance fence. Use the mortise to set the bit just below the mortise lines as it can move up after the first test run and set the stock against the bit to set the gap to be the tenon depth. It is helpful and safer to have a longer push block to run the stock over the bit.
Check the fit and adjust settings if need be. When using harder woods, it is better to take two depth passes. To cut the ears of the tenon raise the bit to the ear height and take passes till it is snug in the mortise, or it can be cut off on the band saw.
Check out the video above for a step-by-step walk through of how we make tenons with a router at the Center for Furniture Craftsmanship.
Related Product Categories