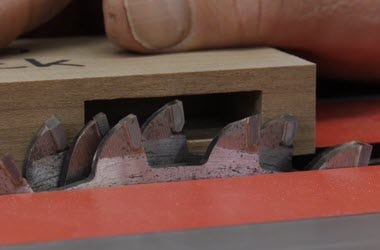 A dado stack is an interesting way to cut a tenon, because it makes clean cuts to the shoulder and cheeks at the same time, meaning only one set up is needed for the majority of cuts. It can be a rougher cut, but that can be an advantage if using certain adhesives like epoxy.
How to Make Tenons on a Table Saw with a Dado Stack with Tim Rousseau
In this video, Tim Rousseau, an instructor at the Center for Furniture Craftsmanship, demonstrates how to cut a tenon on a dado stack. Using a dado stack can take time to set up, but once it is dialed in, creates clean, fast tenons.
As with any power tool set up, make sure the machine is unplugged and check that everything is square and tight. Lower the dado stack to just above the already cut mortise and after making initial passes, the blade height can be micro-adjusted. The next step is to measure the mortise depth. This measurement is used to set the fence in relationship to the blades to cut the length of the tenon, but it will take two passes; a trimming pass first, to take the tenon amount of the stock.
Start with practice pieces and take multiple passes to micro-adjust the dado stack to the correct height for the fit of the tenons. Once the tenon fits sung into the mortise, there are options with cutting the ears to fit inside the mortise. The ears can be cut on the band saw or with a hand saw, or by raising the dado stack height to the mortise measurement on the table saw as long as there is a very square setup.
Check out the video above for a step by step walk through of how we make tenons on table saw with a dado stack at the Center for Furniture Craftsmanship.
Related Product Categories