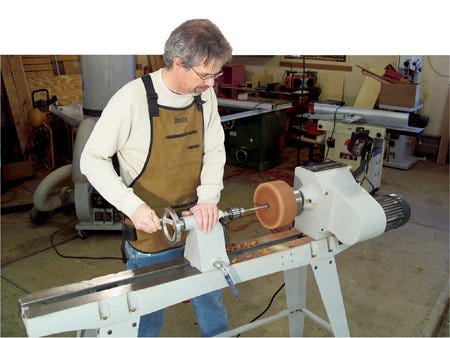 Woodworker's Journal'a Rob Johnstone is a big proponent of mounting a drill chuck to your lathe to give you a head start hole when turning.
There are some gadgets and gizmos that simply complicate our lives (many of which are sold late at night on the TV). And then there are some that, once you have used them, you cannot imagine getting along without. I will suggest that if you have not yet mounted a drill chuck in the tailstock of your lathe, you are missing a "can't live without it" accessory.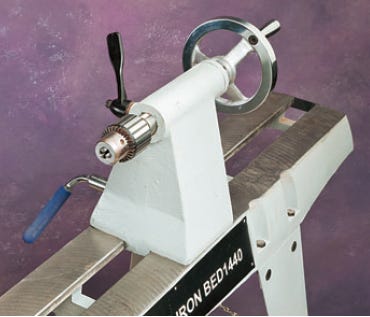 Will you use it every time you turn on the lathe? Well, if you primarily turn bowls, as I do, the answer is pretty much, "yes." If you are turning hollow vessels shaped like a vase, the answer is — "yes." Candlesticks ... "yup." It is actually surprising how many times the simple act of drilling a hole dead center in the middle of your turning blank can be a benefit.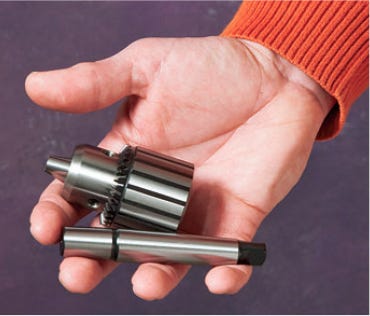 The chuck mounts in your tailstock on a Morse taper — either a #1 or #2, depending on your lathe. Your owner's manual will indicate which taper is right for your tool. Of course, you can mount it or dismount it, as needed.
Using the Chuck
If you are removing a lot of material, a Forstner bit is a great option. The spur keeps the bit feeding straight into the stock, as do the squared-up cylindrical sides of the bit. I also know woodturners who use paddle bits for the same task. One downside to the paddle bits is that their guide spur is very long by comparison to a Forstner bit, and you always need to take the length of the spur into account as you bore. Be sure to advance the bit a short distance and then back it out to assist waste removal.
Sometimes I prefer to use a cutter that does not have the spur protruding past the flat surface of the bored hole. In those circumstances, I use a router bit (a bowl carving bit) chucked into the lathe-mounted drill chuck. It gives me a smooth-bottomed boring that I can shape my bowl bottom to meet. It is a small trick, but one that a moderately skilled turner like myself can take good advantage of.