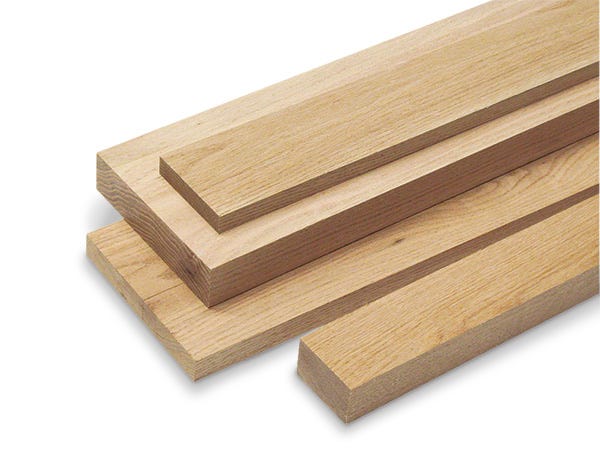 From flooring to fine furniture, few species are as practical as red oak.
As a young man working in my dad's cabinet shop, I can't even begin to estimate the thousands of board feet of red oak that went through our doors. To say that it was the most popular kitchen cabinet hardwood in our shop of the 1970s and '80s would be an understatement. Its unique acrid smell when sanded or cut is one that I still experience fondly.
There are plenty of good reasons why its popularity endures today. Red oak, while strong, isn't difficult to work with. It machines exceptionally well and won't cause you fits with hand tools either.
Aside from its durability and universal availability at lumberyards and home centers, red oak stains quite well, while retaining its strong, open-grained figure. When quartersawn, it exhibits a more subdued ray flake pattern than its cousin, white oak. But it's a convincing and less expensive substitute for Arts & Crafts applications, especially to the untrained eye.
If you're a fan of clear wood finishes, red oak that's sanded up to 220-grit and finished with a good sealer and an ambering topcoat, like oil-based polyurethane or lacquer, is simply beautiful to look at. Those who disparage red oak as "plain" looking do this versatile and economical hardwood a real disservice.
Catch-all Oak Group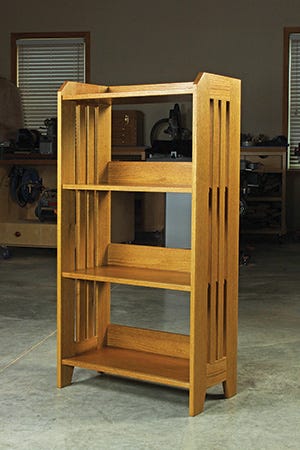 The red oak group consists of many different species. The most important commercial upland species are Northern red oak (Quercus rubra), after which the group is named; Southern red oak (Q. falcata) and Shumard oak (Q. shumardii). The most important lowland species are the willow oak (Q. phellos) and the water oak (Q. nigra). Typical red oak lumber consists mainly of Northern and Southern red oak. Wood of the highest quality is sawn from Shumard oak; unfortunately, it is usually mixed rather indiscriminately with the other red oaks. The lowest quality red oak lumber among these five species is water oak.
Red oaks generally grow up to 80 to 100 feet tall with diameters that can exceed three feet. Most of the important red oak species are rather fast growing compared to other North American hardwoods such as white oaks, maple, walnut and cherry.
Shop Score Card
Uses: Flooring, cabinetry, paneling, veneer, general millwork, furniture, pallets.

Hardness: Hard, with medium strength properties; tolerant to bending and resists denting.

Country of Origin:

Widely distributed across the U.S.

Workability: Planes well but can chip where grain curves toward an edge; easy to cut and rout. Black stains can result when in contact with both ferrous metals and water-based glues or finishes.

Finishing: Readily accepts stains, dyes and topcoats. Open-pore structure may require filling.

Cost: Moderately priced and more economical than plainsawn white oak.