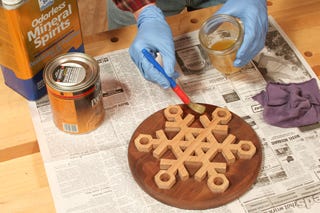 Is there a good, heat-resistant finish for small wood projects like coasters, trivets and table chargers?
As a hobby, my husband is taking our trees and making things out of them (coasters, trivets, and chargers for plates). He used a polyurethane for a shiny gloss on the coasters, but the trivet as well as maybe the chargers need some kind of finish that can withstand heat. I like the shiny look, but it may not happen for the others. Do you have any suggestions? - LoreeJon Hasson
Chris Marshall: Oil-based polyurethane or alkyd varnishes are more heat-resistant than shellac, lacquer, wax or water-based varnish. So, your husband's first choice of finish is probably the best bet among the easily applied, common wood finishes. I've used a few thin coats of wiping varnish to finish wooden table trivets, and we use them under hot pans fairly regularly at home. So far, I've seen no breakdown in the finish from this amount of heat exposure. That said, given the lower amount of heat given off by warm food on a dinner plate, I'd be surprised if it had any negative effect on your chargers — but be sure to let the varnish cure thoroughly before using them. Poly will also offer decent moisture resistance, and that's a benefit when you're wiping your chargers clean with a damp rag.
Tim Inman: I'm remembering the advice the late master finisher, George Frank, gave when asked if French polish - the paragon of fine finishing - was a durable way to finish furniture. He was a little guy, but he bristled and became about 10-feet tall, and said, "You don't go four-wheeling in a Rolls Royce!"
Making beautiful art objects from wood is a wonderful thing to do. Making "treenware" or useful utilitarian objects from wood has been done for centuries. Combining the two is often the goal, but seldom the satisfying result. A wooden trivet or charger actually used with very hot dishes will ultimately reveal the weaknesses of the materials - both wood and finish - from which they are made. Some things are better looked at than used. A wooden goblet might be another example of something better for the eyes than the hand.