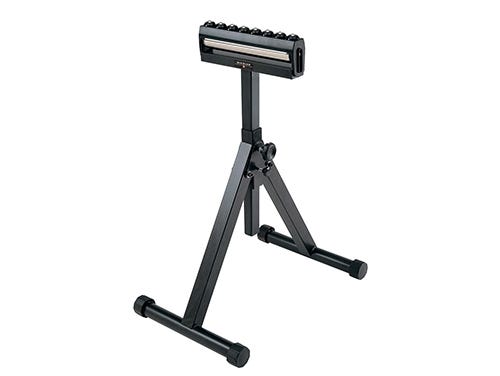 Take a look at the versitle Rockler Flip Top roller stand and how it fit into Robert Anthony Robinson's workshop.
The Rockler Flip Top Roller Stand's item description claimed that the stand would support up to 440 pounds, so I was excited to return home from work last Friday to discover that mine had been delivered by the UPS. I had purchased another stand at a local woodworking expo sometime back that was weak and wimpy, and kept pushing over as I tried to roll my stock over it. I finally got fed up with the nonsense and decided to give Rockler's flip-top stand a try.
Solid and Sturdy
Constructed of solid 2" steel tubing, the stand packs a lot of weight so it was an enjoyable effort to carry it down to the shop for inspection. This is one stand that's not going to tip over as I roll my stock onto it. I was pleased to remove the equipment from the box and find only a few parts. These went together swiftly, making assembly a pleasurable task that gave me an opportunity to learn the new tool. A quick slip of the roller into its rack, the placement of two knobs into their appropriate screw holes, and a push of the floor pads onto the legs and the job was done. I also noted the exceptional fit and finish of the stand. A Rockler decal was affixed prominently and squarely on the front of the equipment. It's nice to see a company that's proud of its product.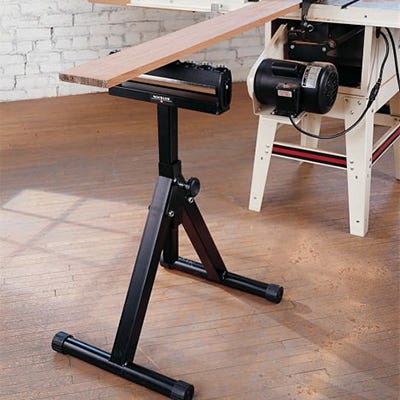 I set the stand in front of my table saw to take it for a test roll. It just so happened that I needed to cut some lengths of Purpleheart - long, heavy lengths of Purpleheart. I adjusted the height of the stand at precisely 35-1/2", the same height as my table saw and workbench. Loosening the lock knobs and raising the center bar accordingly did the trick. The stand adjusts from 28-3/4" to 47". A twin lock knob system firmly secures the height setting and assures that the roller won't inadvertently drop during adjustment. An ingenious leveling assemblage employing leg coasters designed as leveling pads (eccentric cams), compensates for uneven floors. A simple twist of the appropriate leg pad counteracts any imperfections or unevenness. The floor of my Michigan basement is poured--that is, poorly poured. I never get a good lie for my equipment so this leveling ability was a welcome feature.
Convertible Flip Top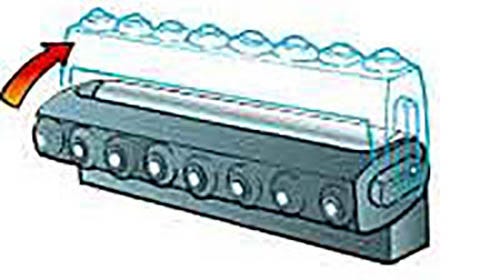 The heart of the Rockler Roller Stand is a flip top that instantly coverts from a large, 2-3/8" by 14" spring-loaded conventional roller stand to a ball stand with eight steel ball bearings on it. The roller allows for easy forward and backward movement whereas the ball stand setting offers the alternative for movement in any direction--very handy. Since I was ripping long and heavy lengths of dense wood, I opted for the roller setting with a quick flip of the top. I was amazed at how easily the stock slid across the stand, effectively bridging my table saw with my bench. I easily ripped the stock off the saw and rolled it gently over to my bench. No tipping or wobble in this stand! I was pleased.
A Stand for Many Uses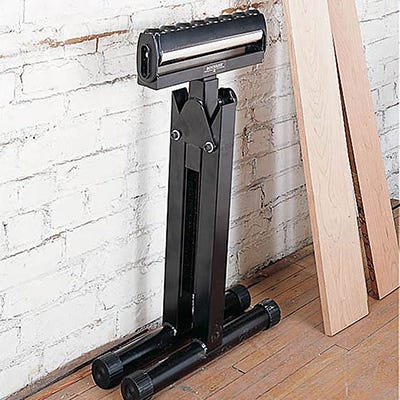 The heavy-duty stand is like having a second work bench in the shop, but one that doesn't take up a lot of room. It folds neatly flat and self-stands for offhand storage. I've found many other uses for it. For example, it's a general rule that you cannot joint a board any longer than twice the length of your jointer, but this flip-top roller stand helps me break the rules. I was able to edge joint a full-sized panel door for gentle adjustments to fit on my 6-inch jointer. Not a recommended operation (or very safe) but accomplished nonetheless. I've also discovered the value of a ball stand used widthwise off the side of my table saw to support long lengths for crosscutting (not possible with a roller stand). In fact, since getting it I've used the stand with my band saw, drill press, miter saw, and well, you get the message. It's a sweet deal. And one that's bound to last a lifetime of normal use.
Robert Anthony Robinson has been a freelance author, visual artist, and technical writer for more than 20 years. He is the Webnotes: Writing for the Web columnist for the nationally recognized print publication, Writer's Journal and a serious woodworker.