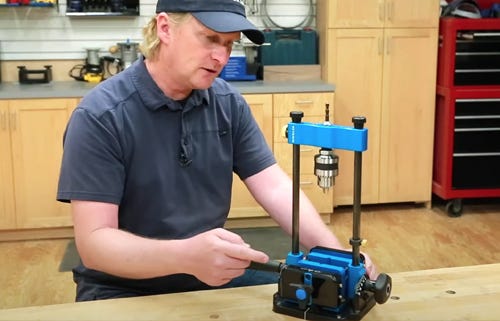 This week we're taking an up close look at the new Rockler Portable Drill Guide and Self-Centering Vise. Take one plunge with our Portable Drill Guide and you'll instantly feel the qualities that set it apart from the rest. Smooth, precise and free of play, it gives you the accuracy and control of a drill press with the portability of a hand drill.
/div>
Just attach your drill to the 1/4'' hex shank on the Rockler Portable Drill Guide and drill away. Robust handles with comfortable rubber casings provide a substantial feel, while the hefty 1/2'' chuck grips large bits with ease. Unlike similar guides, ours drills at any angle from 0° to 60° using the easy-to-read protractor scale. The depth stop lets you drill to the same depth again and again, nice for repetitive tasks like shelf pins. Mounting holes on the base accept shop-made jigs, while the V-notches let you center holes in dowels and other round stock. Finally, two included pins can be installed in the base to straddle your work. This centers the bit over the edge—a great solution for doweling.

Our Self-Centering Drill Vise is perfect for pen drilling, but its large capacity and compatibility with our Portable Drill Guide (sold separately) make it useful for much more. Turn the comfortable rubber knob and both faces of the vise close in synchrony. This means that with one setup, you can drill blanks of a wide range of sizes, either squares or rounds, and all will be perfectly centered and plumb. Attach it to our Rockler Portable Drill Guide(#52882, sold separately) using the pre-drilled holes and you can drill workpieces of unlimited length. Of course, you can also use it with a drill press in the traditional manner.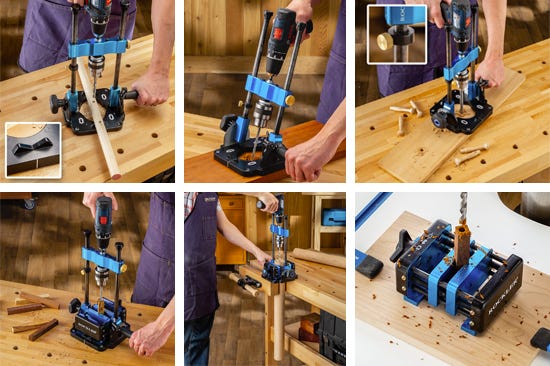 Related Products